Reisika
100% Human Hair Bangs Clip in Hair Extensions Wispy Fringe with Temples Hairpieces for Women
Price:
$22.00$56.00 / piece
Color

Bleach Blonde
Natural Black
Dark Brown
Light Brown
Contact Us
Item specifics
Color:
Natural Black,Light Brown,Bleach Blonde
Description
100% Human Hair Bangs Clip in Hair Extensions Wispy Fringe with Temples Hairpieces for Women
3D Mini Air Bangs | Fringe hairpieces
Human Hair Straight Hair Topper Seamless invisible Breathable Clip in bangs Handmade
Attachment: Clip-In
Texture: Straight
Material: 100% Remy Human Hair
Color: Jet Black, Natural Black, Dark Brown, Light Brown, Bleach Blonde
Bang Length:12cm
Overall Length: 25cm
Hair Style: Clip In Remy Human Hair Thin Neat Air Bangs/Fringe
Package include: 1PC* Clip in Bangs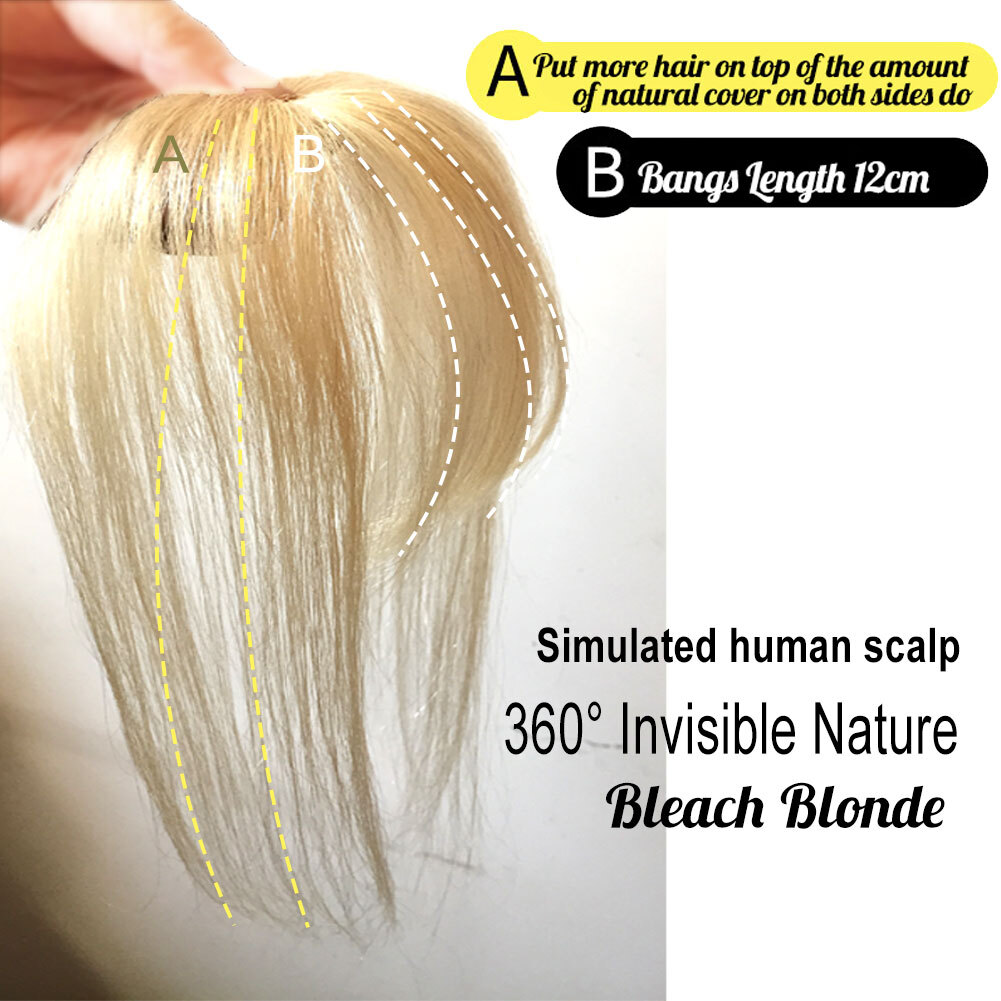 Feature:
One clip in bangs topper, can be used to cover top thin and white hair;
3D mini bangs for women and girls; It will look more natural than the other kind of bangs;
About the dyeing: the Natural Color color can be dyed or bleached; But the other colors just can be dyed from light color to deep one;
The Bangs Topper is Very neat , light and ventilated; You will not feel stuffy when you wear it.
Natural Experience & Blend Well: Clip-in bangs with the temple are made of human hair, sewn in good clips. The bangs clips have a strong strip and the seam is barely invisible. Also enough thickness to cover the forehead without worrying about Wispy.
Easy Clip-in Design: One-piece hair extensions clip-in design makes it easier to wear. After wearing it, hiding the edge of the bangs in your hair will have a more realistic effect.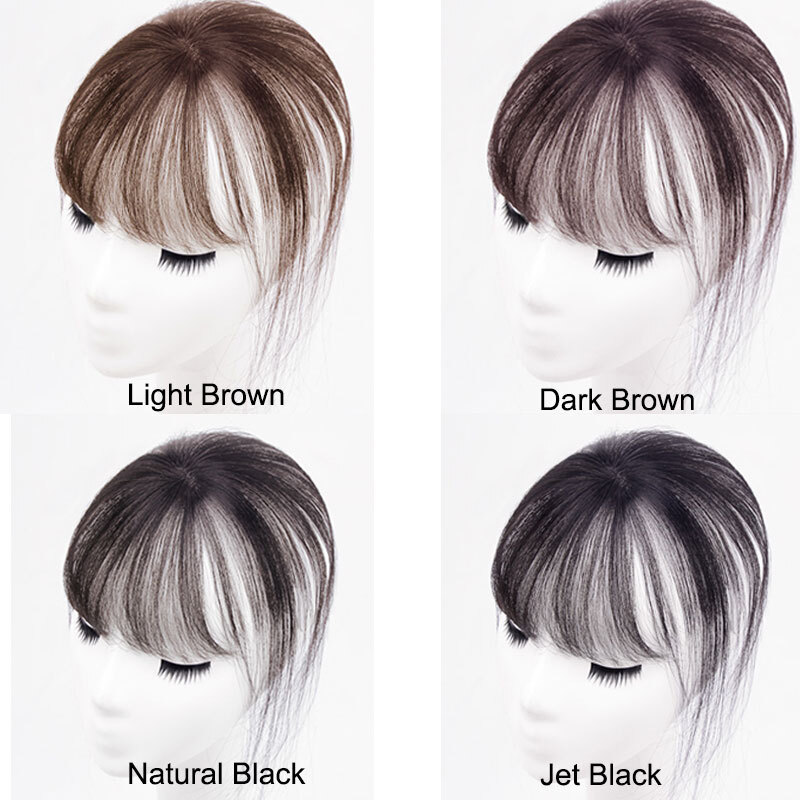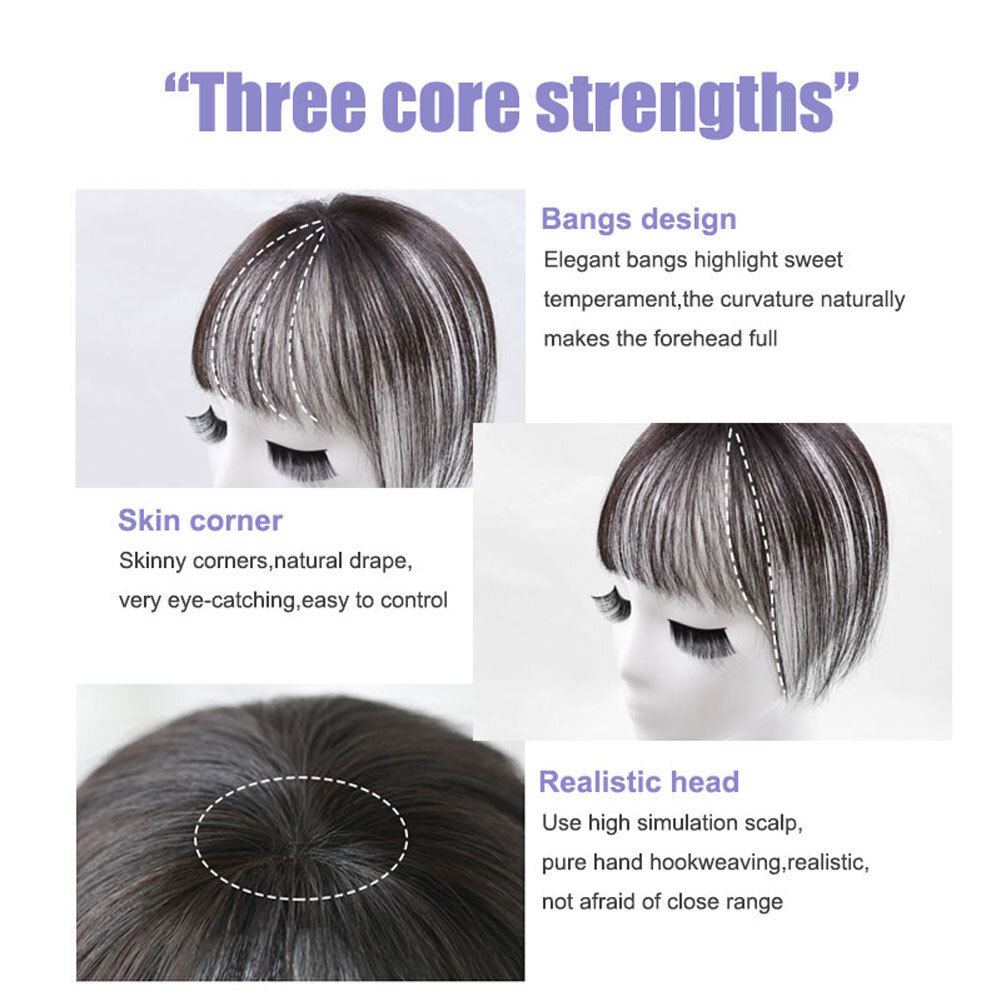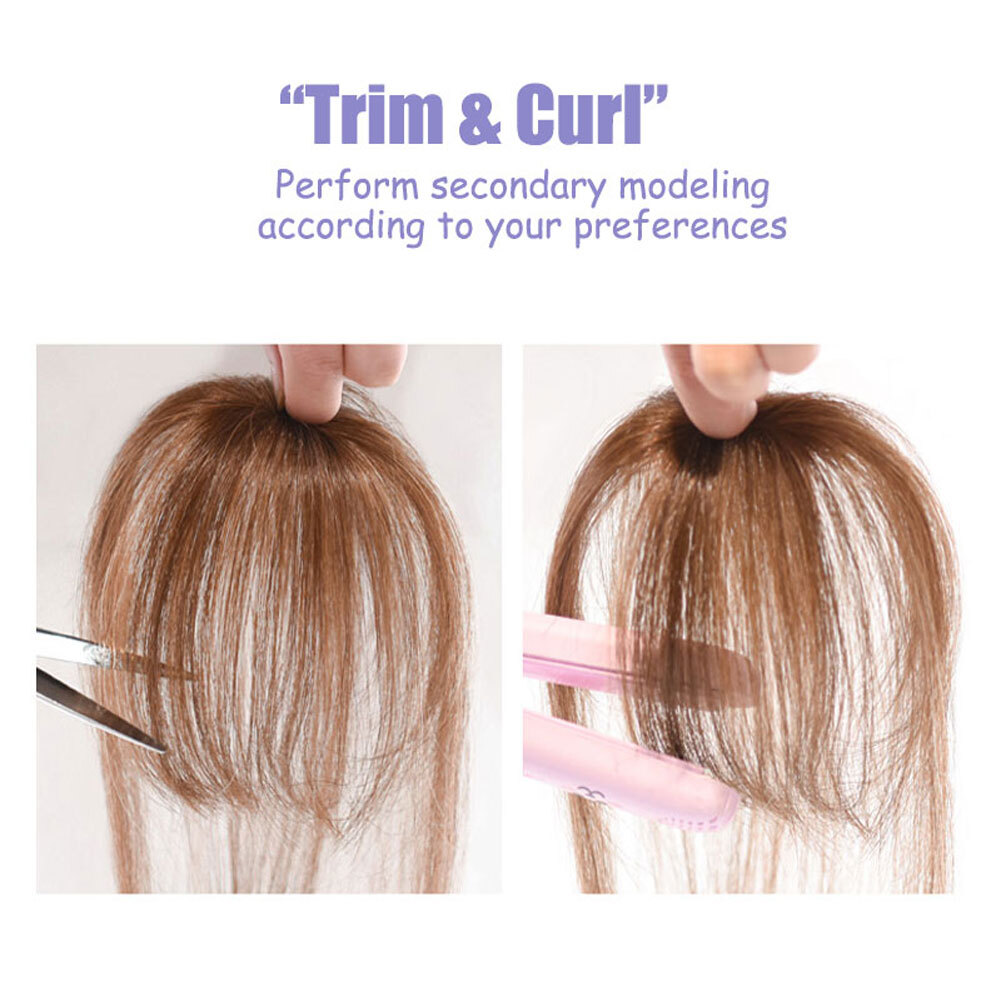 100% Human Hair Bangs: High-quality human hair clip on bangs, shiny, soft and smooth as your own hair. Creating the most lustrous and realistic natural effects. It can be curled, straightened or dyed into other colors and styles as you like. The hair bang may be messy after a long time shipping, Please wash it with water and blow dry it, then make it anyway you want.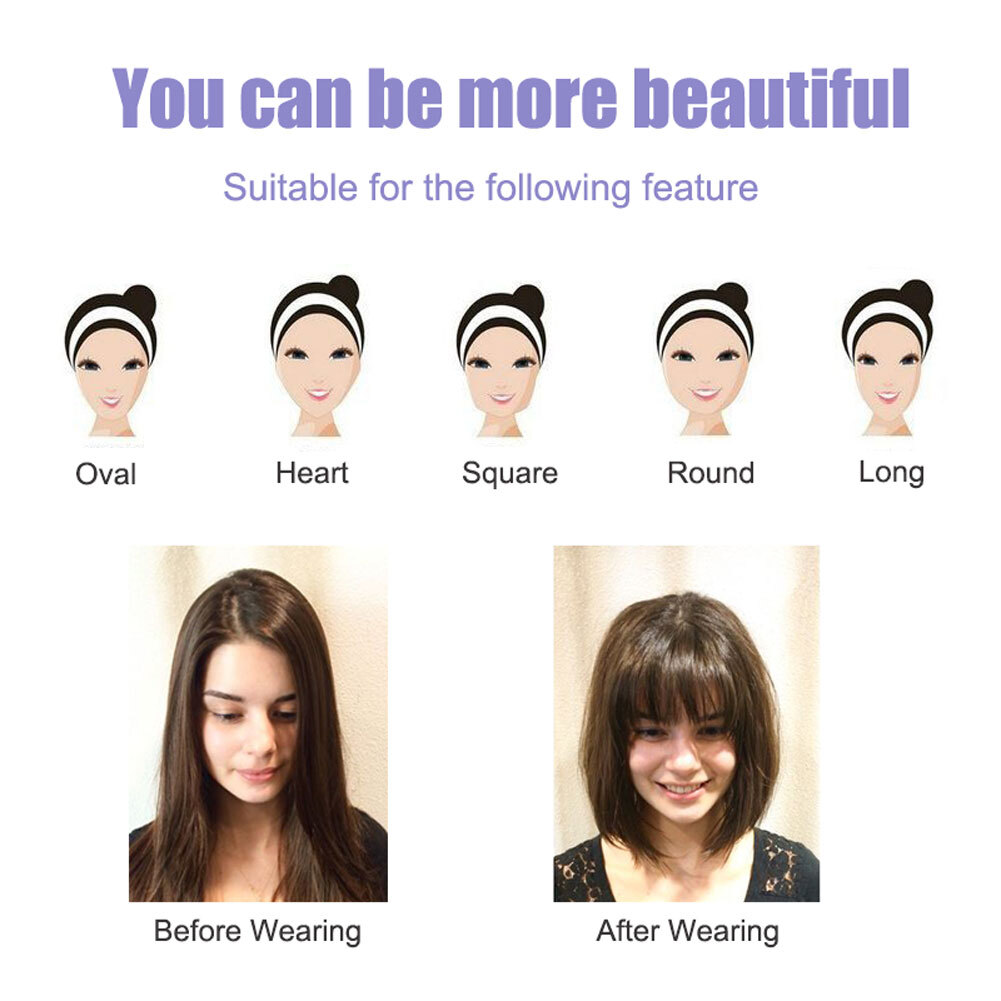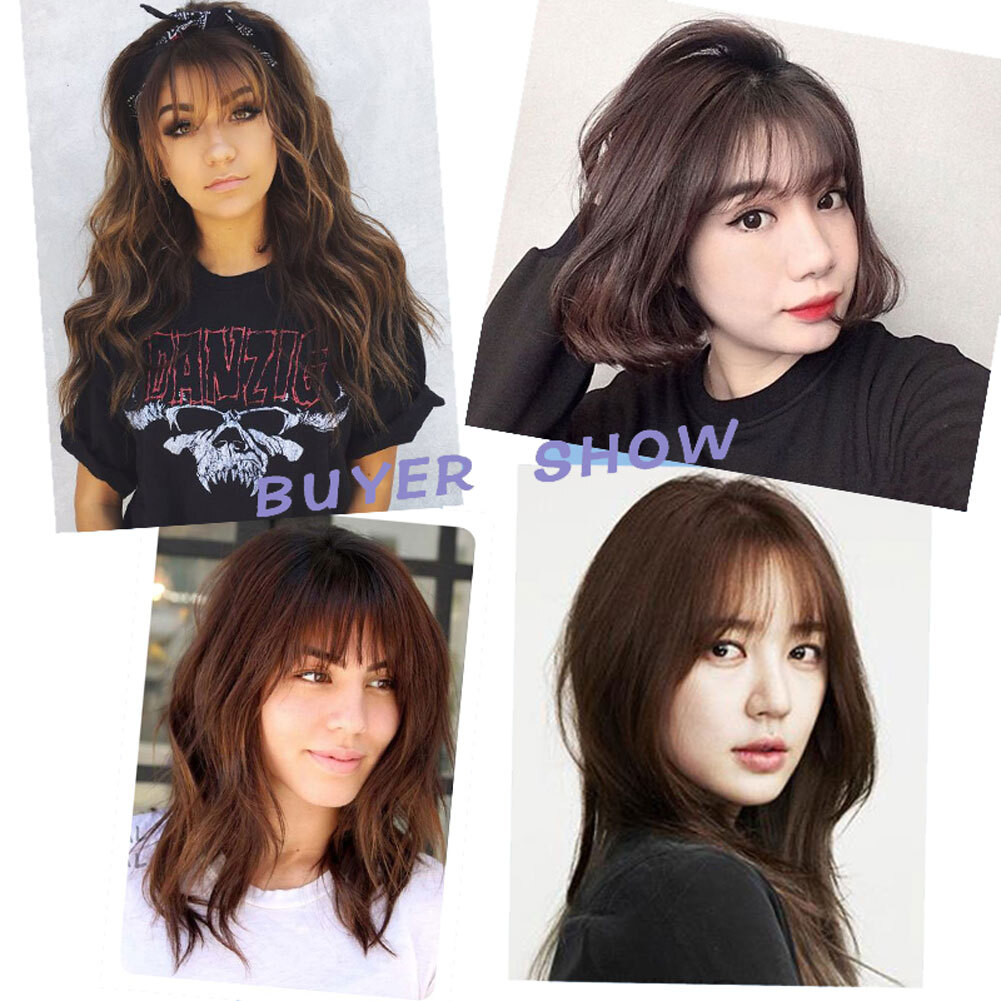 Very easy to wear, you only need a few seconds, easily have an air bangs.Long hair on both sides of the bangs can shape your face. Cut the bangs if the bangs are a little bit longer than desired, you can trim it at will and change it to your favorite style.
Bangs Color & Style: It's a medium brown bang, bangs are 5 inches wide by 5 inches long, and the sideburns are 10 inches long. This style is thin hair, giving people a refreshing feeling, is the most popular see-through bangs hair clip. There may have color differences because of monitors. If you don't like the color when you received it, please contact us. We will do what we can to solve your problems. You are free to exchange or return the item within 30 days.
By
S and E
Wednesday, 26 October 2022
Good if you want to see how bangs look I purchased these because I was considering getting bangs with my next hair appointment. So glad I did because it was a definite no. Bangs are a bit scarce… could be fuller but easy to put in. Color match was pretty far off. Good investment before making a big mistake. Could be fun for a costume or just wanting to change up your look.
By
Rashonda03
Monday, 24 October 2022
Great way to try human hair with bangs I wanted to see if bangs were right for me so I thought to give these a try. I got the French bangs in dark brown. These do have a warm/red tint; my roots are more cool/ash. They did blend In nicely though. I curled them a little to match my naturally wavy hair. Over all I would recommend. Especially for the price. Spray them with a little dry shampoo and comb through to remove the sheen for a more natural look.
By
Alejandra V
Monday, 10 October 2022
Absolutely loved it ! Looked real I would recommend keeping it in the net /roll it comes with to keep it nicely maintained. No one realized they were fake . Highly recommend before you cut your bangs lol
By
Adrienne McLeod
Thursday, 29 September 2022
Got my BANG for my buck with this purchase! So many people were fooled and thought my bangs were real! Easy to cut for a shorter bang look! Easy clip in and removal!
By
Jamie
Wednesday, 28 September 2022
Clip in Bangs I bought these because I'm dressing up as Tina Belcher from Bobs Burgers for Halloween and I didn't want to cut my bangs short. I thought I'd give these a try and I was pleasantly surprised! I placed them a few inches back from my hair line so the bangs weren't super long but I think with Tina's yellow barrette, these bangs will work just fine!
By
diane
Saturday, 24 September 2022
The quality of hair is great but these could use more volume...
By
Anne
Saturday, 17 September 2022
By
philomena
Tuesday, 06 September 2022
Easy to use These hair bangs were a great purchase! I've been debating cutting my hair for bangs for a while now, so this was a great way to try them out before permanently cutting my hair! They were soft and matched my hair perfectly! No one-not even my husband knew that they weren't real! Easy to use-humidity doesn't affect them at all either!