Reisika
Seamless Clip In Remy Hair Extensions Black, Ultra-Invisible Real Hair Extensions Clip on Human Hair 7pcs 110g
Price:
$63.85$85.00 / piece
Stretched Length

20 inch
14 inch
16 inch
18 inch
22 inch
24 inch
Color

Bleach Blonde
Natural Black
Dark Brown
Dark Brown Top to Chestnut Brown Bottom(#T2/6)
Jet Black
Light Golden Blonde
Contact Us
Item specifics
Color:
Natural Black,Dark Brown,Bleach Blonde
Color Type:
Pure Color,Piano Color
Description
Clip in Human Hair Extensions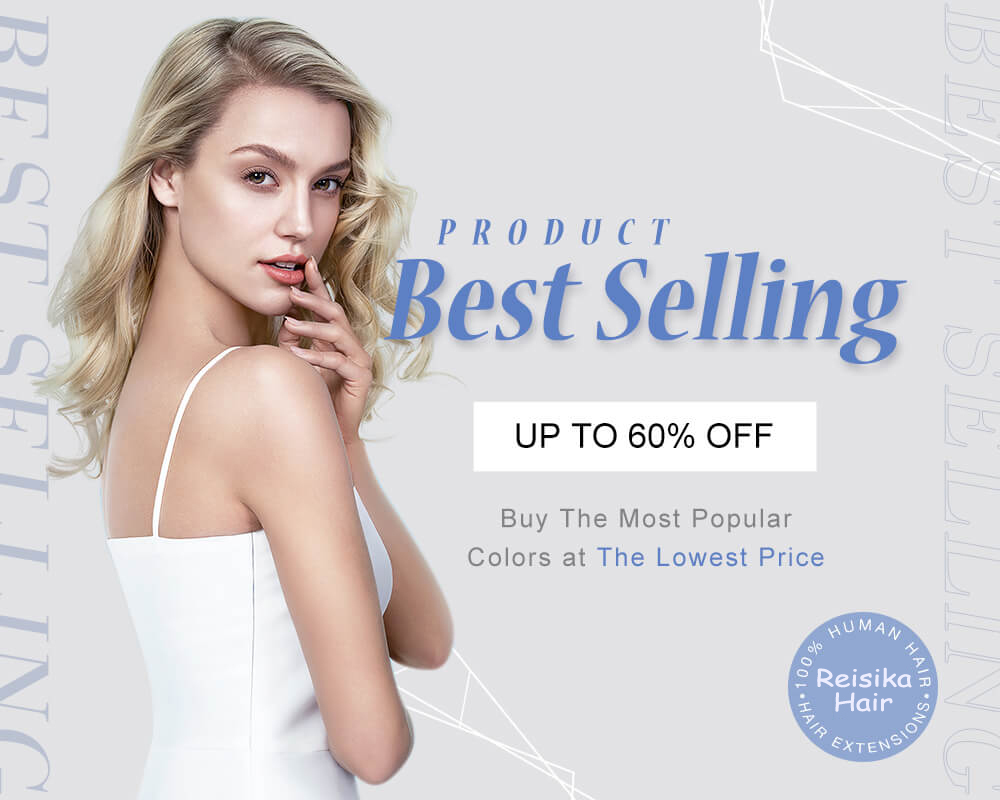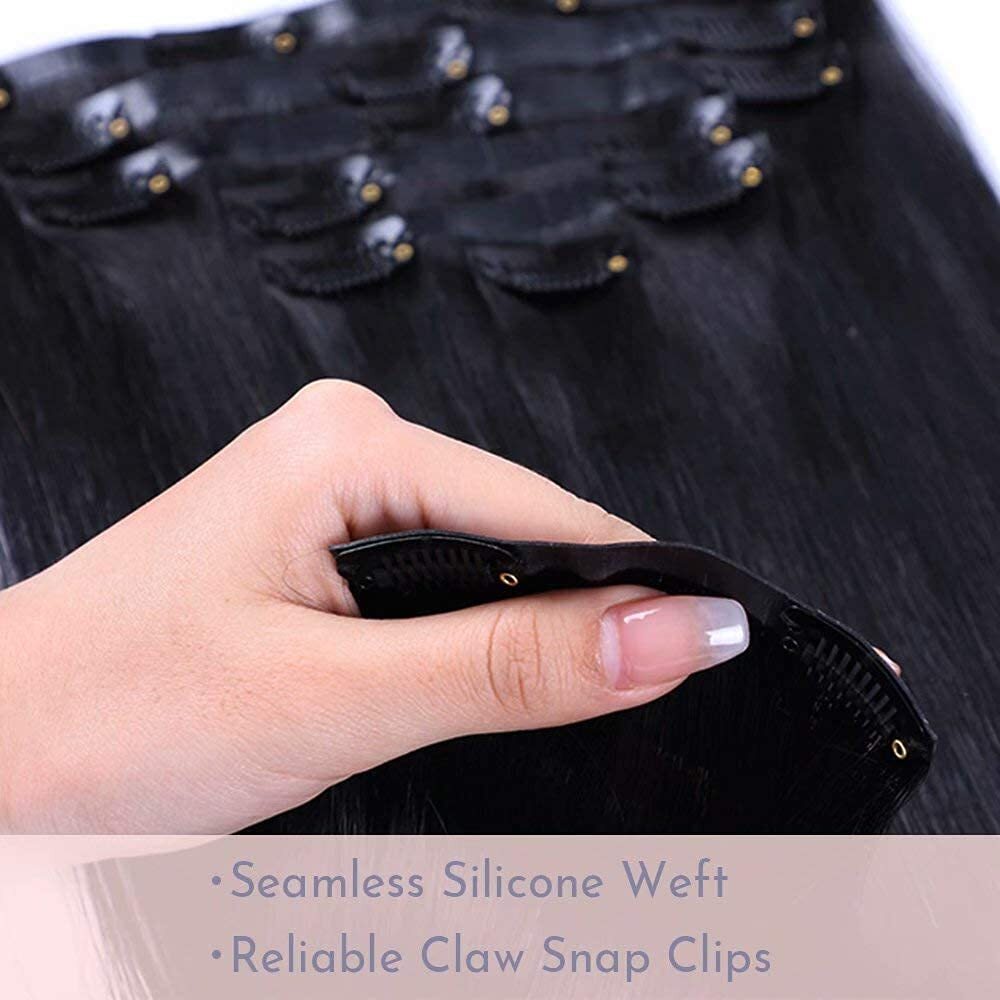 Reisika Real Remy Hair Extensions
Seamless Clip In Human Hair Extensions - Off Black
Hair: Soft, intact cuticles, healthy ends, no tangling.
Colors: #1B, off black , Dark Brown , Medium Brown , Dark Brown & Bleach Blonde ...
Length: 14"-24"
Specifications: 110g 7pcs with 17 clips
Lifespan: 7-12 months (under proper care)

Reisika believes every woman is born with elegance and confidence, our pursuit is to help every woman and girl find confidence and beauty.
About this item
💪 INVISIBLE SILICONE BASE, SUPER DISCREET. These innovative seamless extensions lay flat against the head, offering the flat look of tape-ins with the convenience of clip-ins, easy to conceal, no bumps or shedding.

💯 REAL REMY HUMAN HAIR. Our refined remy hair has intact cuticles in the same direction, safeguarding the hair from damage. Longer lasting and easy to be dyed & curled. Time speaks everything.

⭐ FULLER HAIR END, NO SPLIT. Different from others, we increase the ratio of the longest hair in the extensions to make sure that each piece is more even and the bottom half is almost as thick as the top.

👍 UPGRADED CLAW SNAP CLIPS, NO HAIR DAMAGE. We care your own hair by using claw snap clips on our hair extensions, making sure it's easy to install and meantime protect your own hair roots from damage.

❤ HAIR IS STILL HEALTHY AFTER WASHES. Instead of improperly coating hair in silicone, we make sure the hair is strong and healthy by minimizing the chemical process. After proper washes and care, our hair is still soft and tangle free.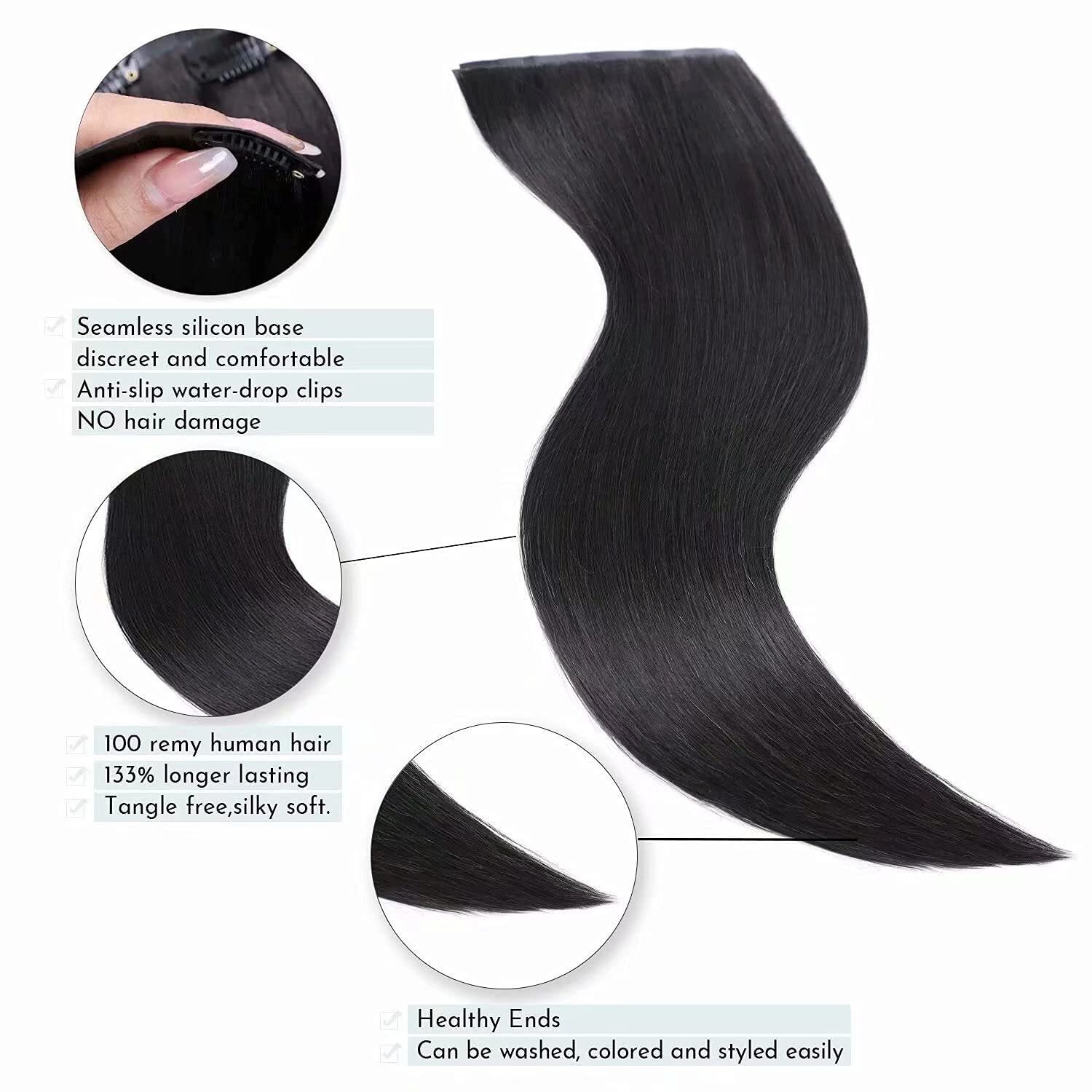 Package Include:
A set of 7pieces,16 clips total
One - 8 inch piece ( for the back of the head ) with 4 clips each piece
Two - 6 inch pieces ( for the back of the head ) with 3 clips each piece
Two- 4 inch pieces ( for the sides of the head ) with 2 clips each piece
Two - 2 inch pieces ( for the sides of the head ) with 1 clip each piece
7pieces combination is flexible to use by your choice. Useful for both thin and thick hair by adjusting the piece.Clips are already attached,just clip them in and out whenever you like.
Premium Quality Made with Integrity
From hair sourcing to hair dyeing method, quality always comes first.
As a 15-year experienced human hair extension factory and supplier,
we've been providing high quality human hair extensions to our worldwide customers
Sourcing The Best, for The Best.
We search across the world to source the best quality hair our customers are accustomed to.
There are no shortcuts when quality is concerned. We firmly believe that.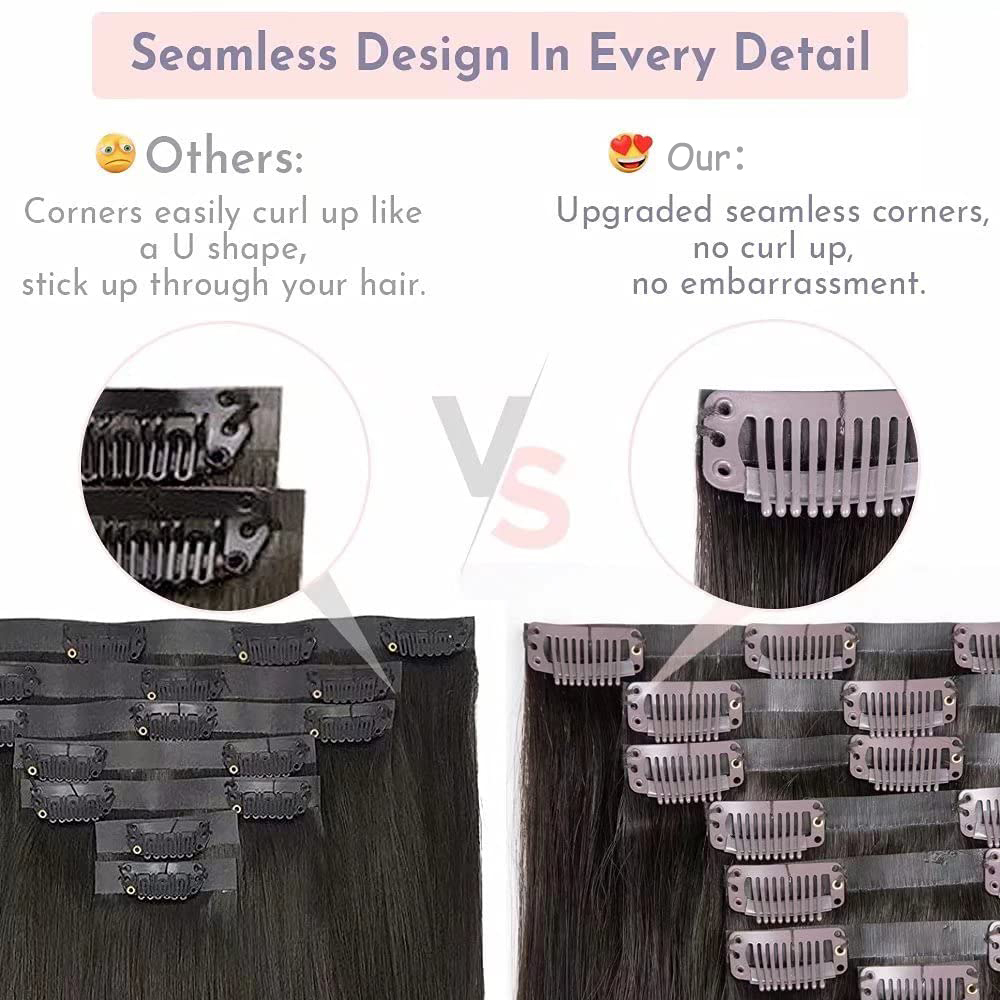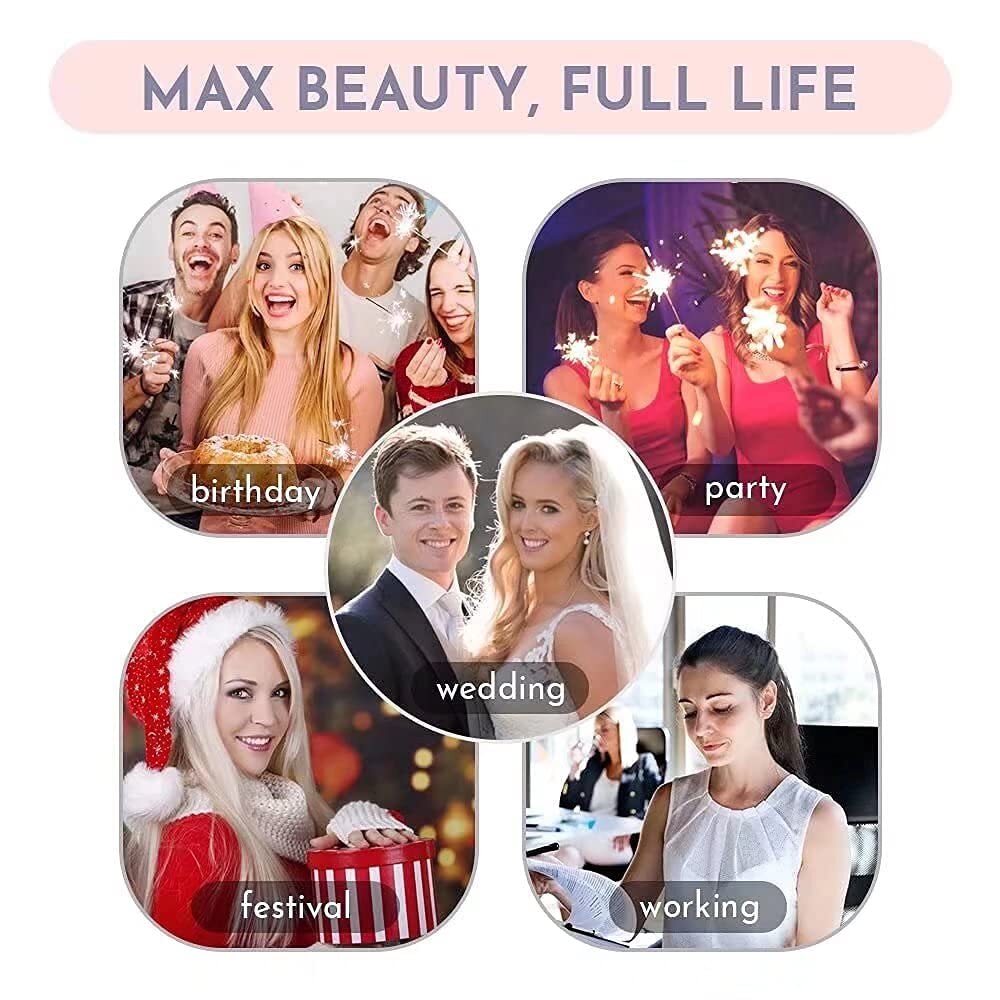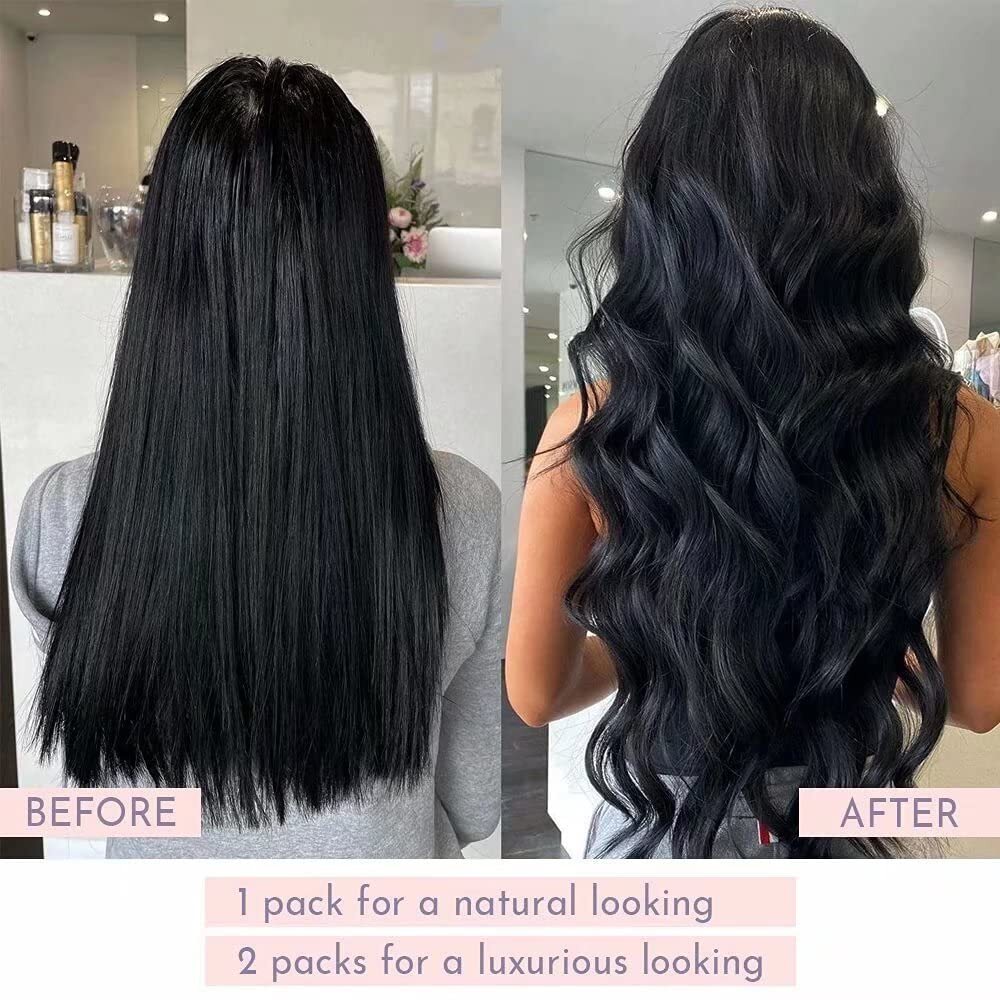 Care and Usage:

a.The hair can be colored,Avoid dying the hair too many times, or the lifespan of hair will be shortened.We don't suggest to bleach the hair.
b.The lifespan largely depends on how they were worn and taken care of,use sulfate free shampoo and conditioner on the hair,use hot tools when they are dry.
C.Before and after use the clip in hair extensions remember to brush it kindly.
we have our own a factory, so we can offer 100% human remy hair extensions with high quality and competitive price.
By
Amazing quality!
Sunday, 02 January 2022
hese seamless clip in extensions are SUCH good quality! I am so pleased with the thickness and volume they give my hair. I used 2 sets of 22 inch extensions and couldn't rave about them more. The quality of the clips is great as well and feels like they'll last a really long time. Highly recommend!!
By
Jason
Friday, 17 December 2021
I am so relieved I picked the right color! This is my very first time trying extensions so not positive I put them in the right places but there are lots of pieces of different sizes and they are surprisingly soft- def glad i splurged on the real hair.I suffer from super duper thin hair and also had really bad postpartum hair loss this last year after I stopped breastfeeding.I used to be a commercial actress and on a few occasions they put clip in extensions and they made my hair long much thicker. Ever since them I've been looking. My best friend is getting married this year and wants our hair down and long so I knew I needed to find some good extensions so I can curl them. I think I am going to have my hair stylist cut them and bring them so she can add in a few auburn color low lights to match it even better.Like I said I put these in real quick (usually you want to tease the lines you place the clips in and they will be more sturdy.The box also surprisingly came with a gift of false eyelashes, a large hair clip and a comb with a hair separate (i always wanted one of these!) I am so happy with these- good price for the high quality
By
Shelby Cornett
Thursday, 16 December 2021
I'm a cosmetologist so I'm very familiar with hair and hair extensions. These extensions are better quality than the high end ones I've bought in the past! For the blonde extensions the dark is a about a level 6 and the lighter is a level 10. I say this because I'm the picture the darker color looks like a level 4 blonde. Yes the extensions tangle a bit but it's hair, come on ladies. They untangle very easily, the hair is of great quality and very soft. I highly recommend these! They're a steal for the price! Shipping was extremely fast! Ordered on Friday arrived Monday.