Reisika
Create a Natural and Flawless Hairline with 3D Topper and Clip In Bangs Human Hair Extensions
Price:
$22.00 $56.00 piece
Color

Bleach Blonde
Natural Black
Dark Brown
Light Brown
Contact Us
Description
Create a Natural and Flawless Hairline with 3D Topper and Clip In Bangs Human Hair Extensions
3D Mini Hair Bangs | Fringe hairpieces
Human Hair Straight Hair Topper Seamless invisible Breathable Clip in bangs Handmade
Attachment: Clip-In
Texture: Straight
Material: 100% Remy Human Hair
Color: Jet Black, Natural Black, Dark Brown, Light Brown, Bleach Blonde
Bang Length:12cm
Overall Length: 25cm
Hair Style: Clip In Remy Human Hair Thin Neat Hair Bangs/Fringe
Package include: 1PC* Clip in Bangs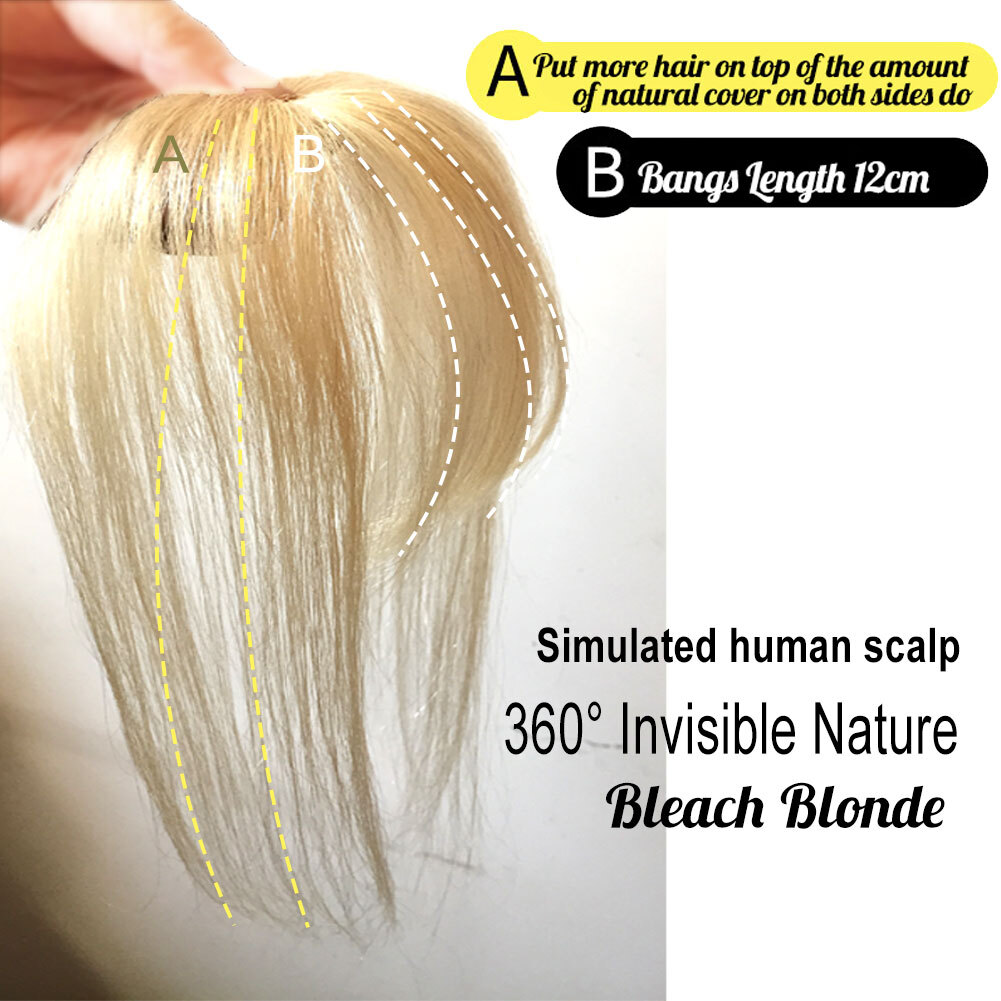 Feature:
One clip in bangs topper, can be used to cover top thin and white hair;
3D mini hair bangs for women and girls; It will look more natural than the other kind of hair bangs;
About the dyeing: the Natural Color can be dyed or bleached; But the other colors just can be dyed from light color to deep one;
The hair Bangs Topper is Very neat , light and ventilated; You will not feel stuffy when you wear it.
Natural Experience & Blend Well: Clip-in bangs with the temple are made of human hair, sewn in good clips. The bangs hair clips have a strong strip and the seam is barely invisible. Also enough thickness to cover the forehead without worrying about Wispy.
Easy Clip-in Design: One-piece hair extensions clip-in design makes it easier to wear. After wearing it, hiding the edge of the hair bangs in your hair will have a more realistic effect.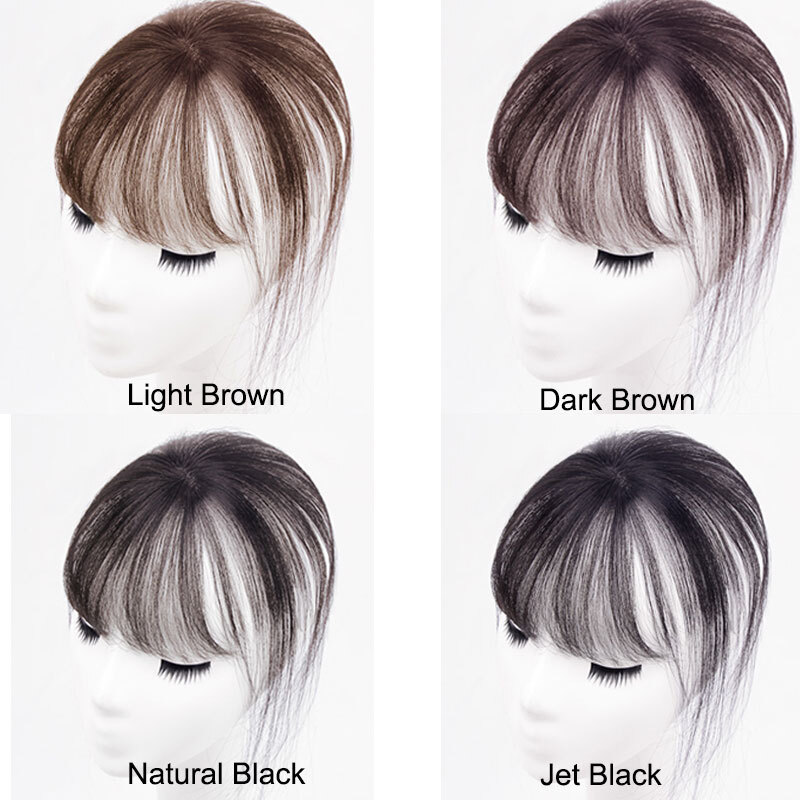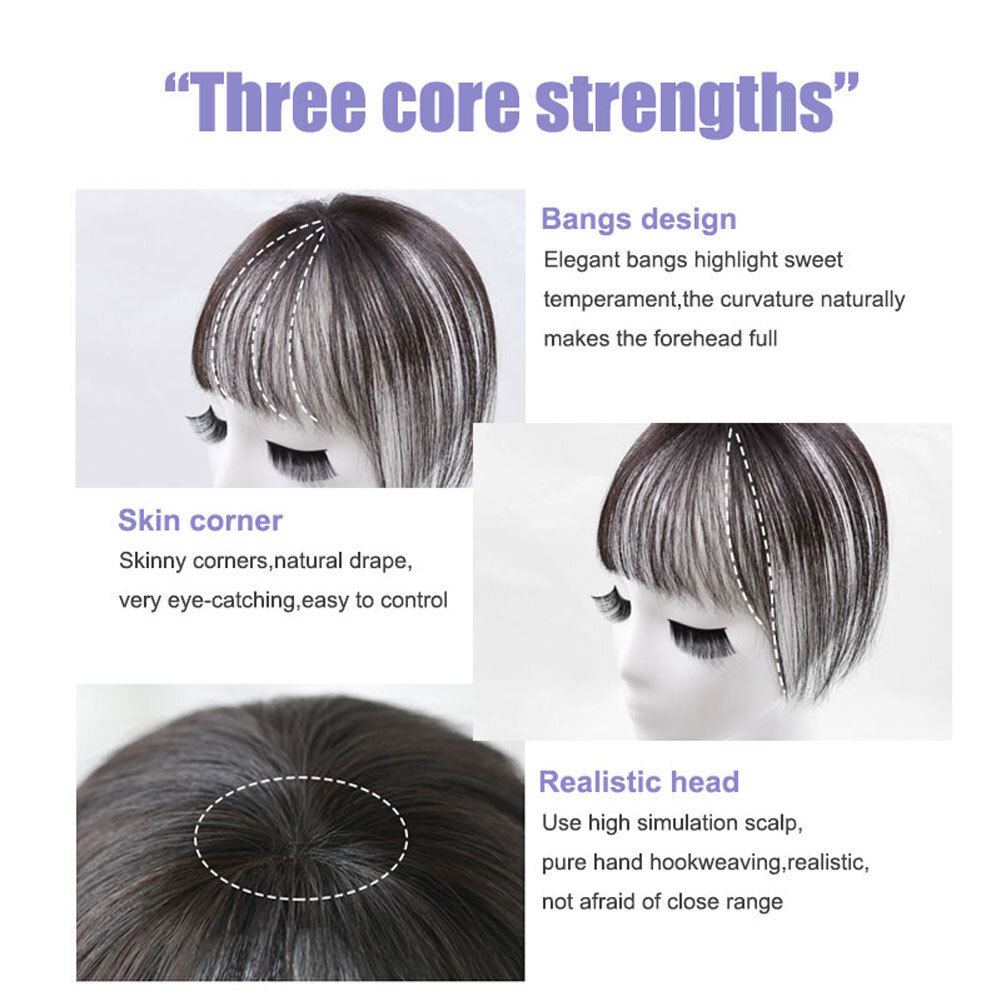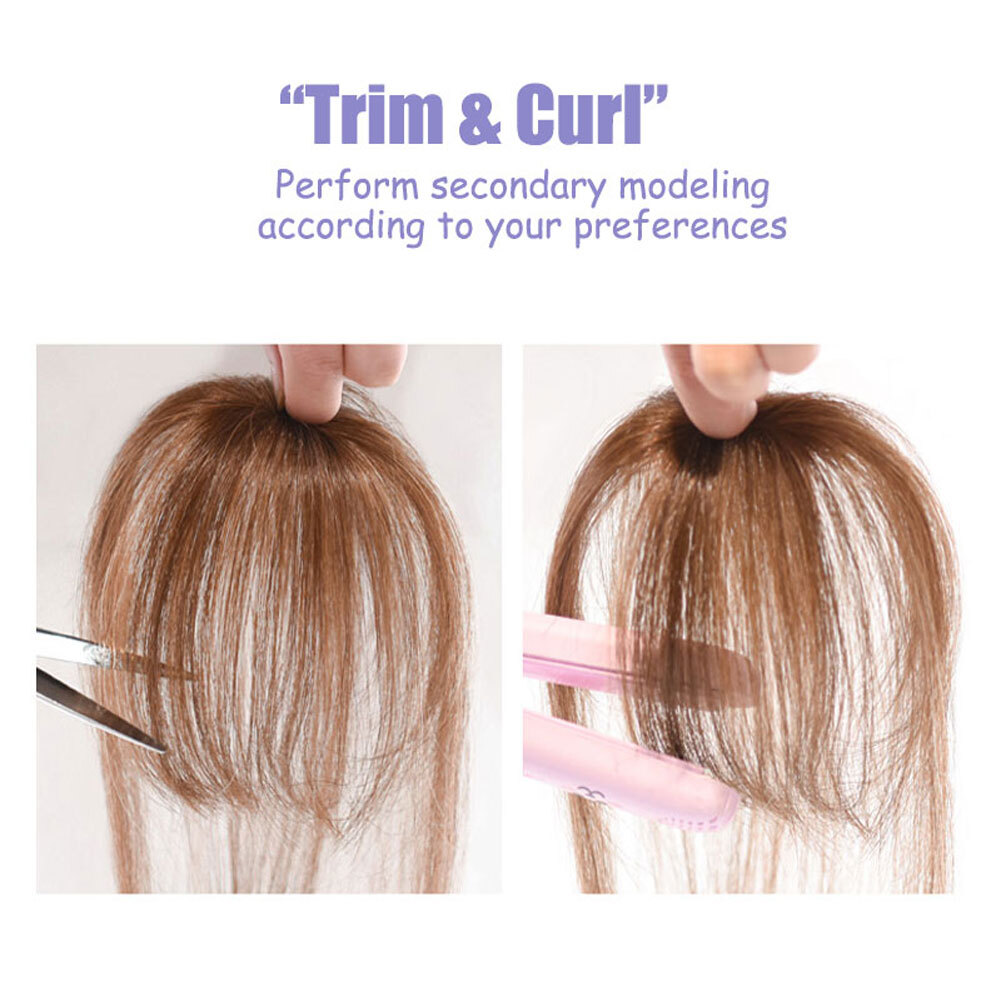 100% Human Hair Bangs: High-quality human hair clip on bangs, shiny, soft and smooth as your own hair. Creating the most lustrous and realistic natural effects. It can be curled, straightened or dyed into other colors and styles as you like. The hair bang may be messy after a long time shipping, Please wash it with water and blow dry it, then make it anyway you want.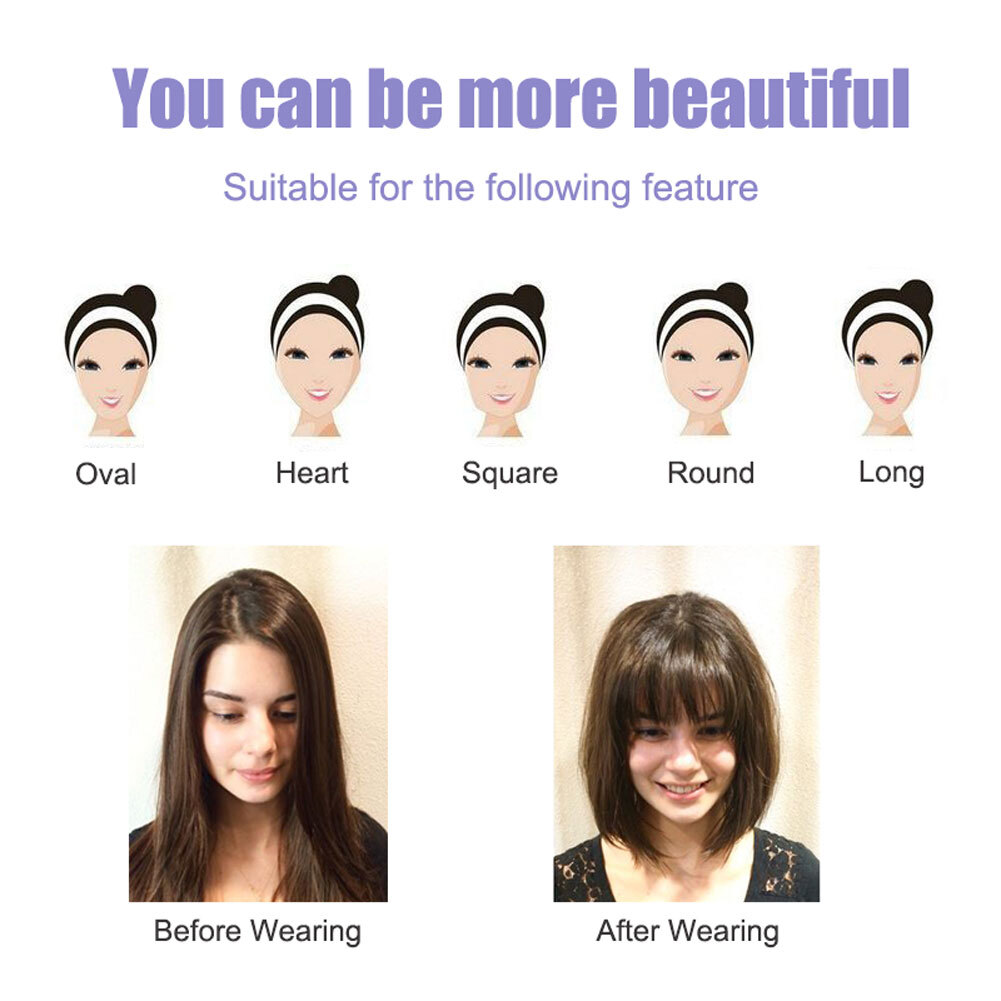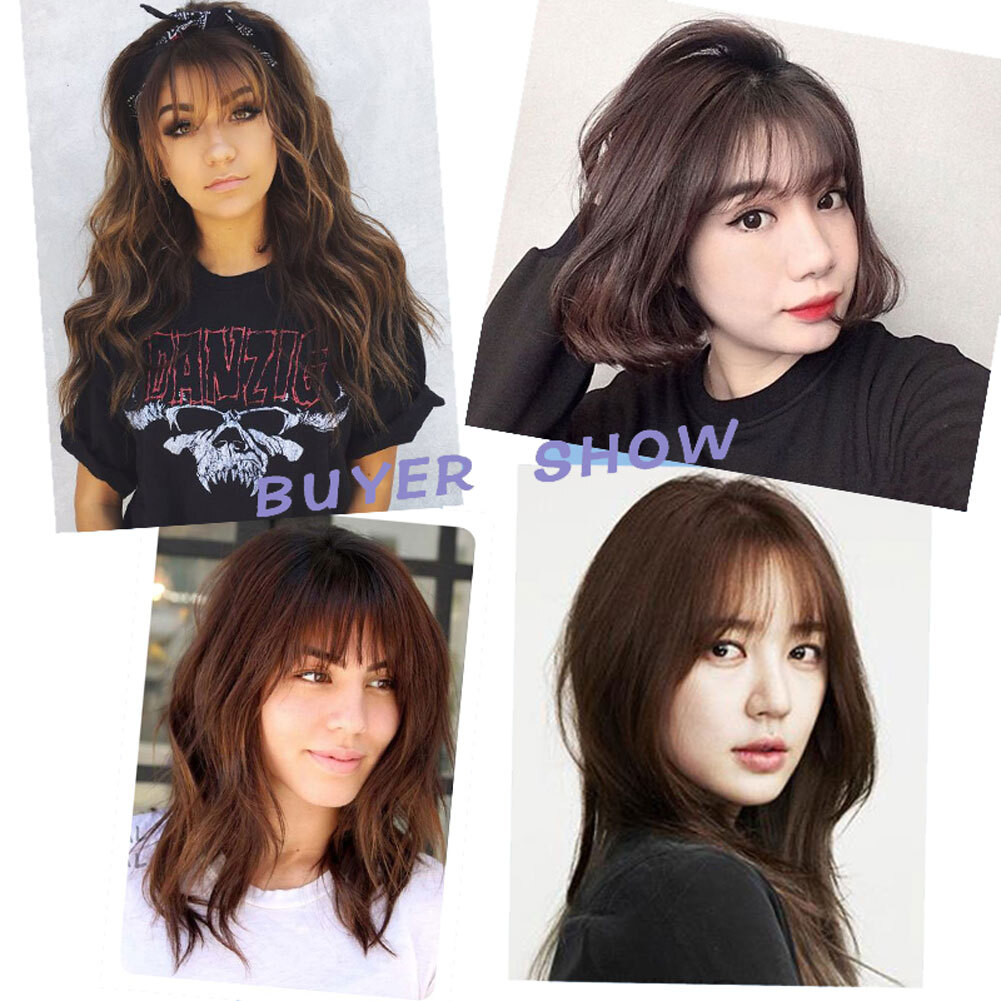 Very easy to wear, you only need a few seconds, easily have an hair bangs.Long hair on both sides of the bangs can shape your face. Cut the bangs if the bangs are a little bit longer than desired, you can trim it at will and change it to your favorite style.
Bangs Color & Style: It's a medium brown bang, bangs are 5 inches wide by 5 inches long, and the sideburns are 10 inches long. This style is thin hair, giving people a refreshing feeling, is the most popular see-through bangs hair clip. There may have color differences because of monitors. If you don't like the color when you received it, please contact us. We will do what we can to solve your problems. You are free to exchange or return the item within 30 days.
Customer Reviews ( 29 )
By
dvwe
Friday, 21 April 2023
I got these bangs to see if I would look good with bangs before deciding to cut my own hair. The product is great and looks realistic, the sad news is I look terrible with bangs.
By
Bangs
Friday, 21 April 2023
I use this product for fashion and it looks real.
By
Ruthmary
Friday, 21 April 2023
It's not the exact color but it works
By
Jo Martinez
Friday, 21 April 2023
Now I had my hopes down BUT I am pleasantly surprised!! It matched perfectly with my hair. I would recommend giving it a little trim and maybe wearing a headband over it but overall really nice.
By
Courtney Junkermeier
Friday, 21 April 2023
Great color match, wonderful framing I think this was a really nice clip-in. The shape is great for framing the face also. However, you have to get a bit imaginiative to hide the clip as it sits in the front, but otherwise a nice way to see if you like bangs for yourself!
By
Valeri Pighini
Thursday, 20 April 2023
Very easy to use... I felt a little bit self conscious because my hair is pretty thin and you can see where the clip sticks up a bit. But if I have Day 1 Clean Hair it's a little puffy on top and it hides the clip. It's actually pretty cute. It's a little long, but my daughter is going to trim it and then color match it my hair. I love the color.
By
Danielle Walker
Wednesday, 19 April 2023
It was honestly perfect. I used to get actual bangs from the salon every so often when I felt like changing my hair up, but it was too much to maintain. I also hated when it would be cut too short and look too straight. I have photos of myself from that time and I literally gag. It was a shame because I loved having bangs when they were at that perfect length. This allows me to just have bangs when I feel like it and look perfect from the get go. The bangs felt like real hair and looked like it too. My friends messaged me saying how good they looked only for me to tell them they were actually clip-ons. My mom loved them too and so she'll be ordering her own. I couldn't be happier with them! No more spontaneous trips to the salon to get my bangs whenever I feel sad. 🤪 10/10 would recommend.
By
desmond
Wednesday, 19 April 2023
I liked it very much, however the color isn't exactly the same color as mine. I do love wearing it in-between dying my hair. When I use the bangs they hide my grey hair and they give me extra time to dye my hair.
By
maria
Tuesday, 18 April 2023
It's very hard getting a good match with your hair color.
By
thomatime
Tuesday, 18 April 2023
By
Wildman
Thursday, 13 April 2023
I thought the quality was good, and the color matching was spot on
By
LWells
Saturday, 08 April 2023
I'm a professional salon stylist- worked great for client
By
Lo recomiendo
Thursday, 06 April 2023
Producto se ve igual que en la fotografía. Me gusto y lo recomiendo.
By
Ashley Bestoso
Thursday, 06 April 2023
HIGHLY RECOMMEND & SO EASY TO CLIP IN! Loved the Hair bangs! Me and my 3 sisters bought these to wear for my mom's birthday because she has real bangs and we thought it would be a cute surprise. Everyone thought all of our were real bangs.
By
Jaecee
Monday, 03 April 2023
its soo realistic! i still have ppl fooled LOL.. the hair just gets flat and sticks together easily, making it look fake. other than that, great product!
By
janet marzouca
Saturday, 01 April 2023
By
Aida Vargas
Friday, 31 March 2023
By
Danny
Thursday, 23 March 2023
Bought this for someone else and they absolutely love it. The use is straight forward and the color is screen accurate. According to the person who I bought it for, they would definitely buy again.
By
McCartney
Saturday, 15 April 2023
This is such a fun way to switch up a look or 'trial' some bangs before you make the cut! I loved how easy this was to use & I'm so happy it came on a roller vs just squished in a bag like other wigs tend to be. I bought the black brown bangs & I think they are so fun, I wouldn't go headbanging with this in but the clip stays in very well for everyday use. Overall, this exceeded my expectations & was high value product for its price in my opinion!
By
Dee
Tuesday, 28 March 2023
I ordered this 3D clip in bangs and attempted to match my hair color with the selections online. The color that I selected was just a bit too dark and I contacted the company to see about how I could do an exchange. The response time was fast! A representative responded within a day and was happy to send me the other clip in bangs color that I was wanting. The delivery of the new color was quick also. The bangs hair clip was well packaged in a hair net and a rounded curler that helps the hair piece hold it's shape. It wasn't tangled or messed up like other pieces I've bought from other companies. It's well made and looks great. I'd buy from reisika again in a heartbeat! Thank you reisika for providing a great product and amazing customer service!