Reisika
3D Clip in Bangs Human Hair - Invisible Natural Air Bangs Hair Extensions
Price:
$26.00 $52.00 piece
Color

Dark Brown
Light Brown
Natural Black
Bleach BLonde
Contact Us
Description
Product: 3D Clip in Bangs Human Hair - Invisible Natural Air Bangs Hair Extensions
3D Hair Bangs Color: Natural Color | Natural Black | Dark Brown | Light Brown
Material: Real Human Hair Hand Made 3D Mini Air Bangs, New Style Bangs Hair Extensions for Women Washable, Can Trim Bangs, Can restyle hair texture, the grey topper was designed to help cover thinning hair Small scalp with high quality hair transplant process,don't be afraid to wear the help when others look close.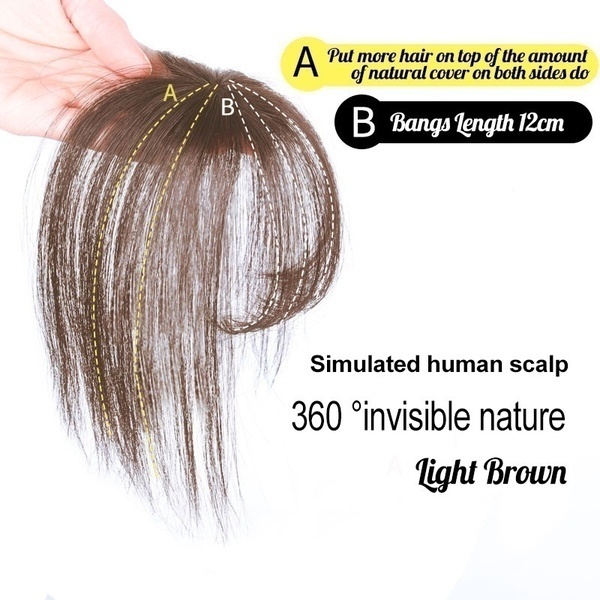 3D Hair bangs VS Hair bangs
1.3D Hair bangs cover more hair than the hair bangs

2.3D Air Fringe hair crown topper to add hair volume instantly. helpful to alopecia, thinning hair on top, female pattern baldness

3.Natural droop of the slender Temples, slightly curly make your face look smaller and sweet.

4.3D see-through bangs, don't stick the scalp, looks more fully and cute.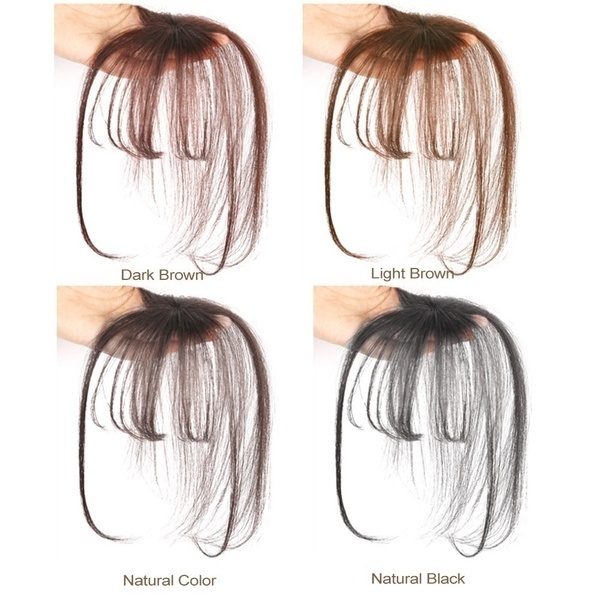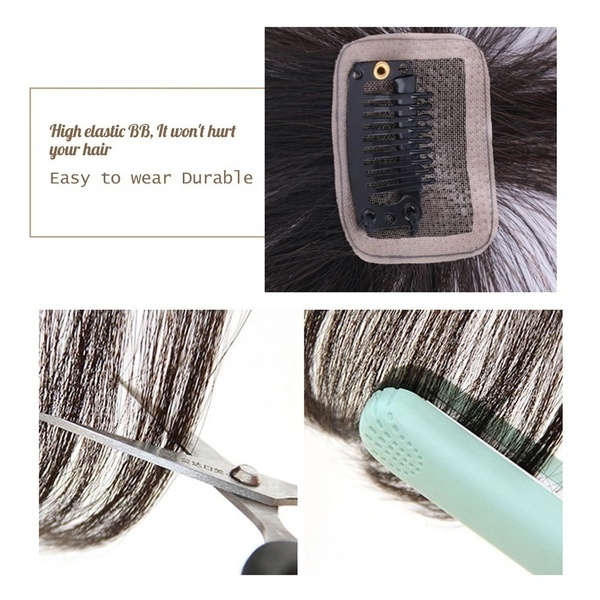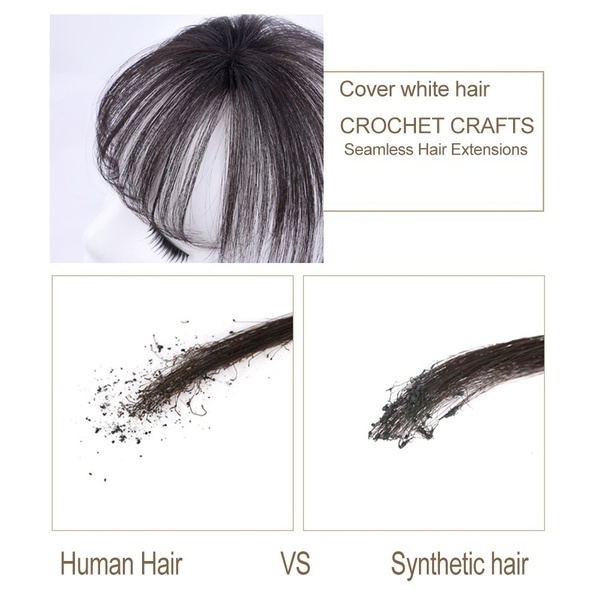 If you want to know more products,we have: seamless hair extensions , bang hair extensions, etc.

Customer Reviews ( 44 )
By
Crystal lira
Friday, 21 April 2023
I saw these from someone on TikTok and ran to buy them. I bought the blonde hair bangs and then dyed them to my hair color and tried them. With a little finessing and styling I got them clipped in to look realistic and fell in love! Next day booked my appointment and cut my bangs hair and love having the real ones even more.
By
Misti Little
Thursday, 20 April 2023
I liked this clip in bangs hair. When I wear it you can't see that I have a big forehead and it goes well with my natural hair color.
By
Sammy Meany
Monday, 17 April 2023
I bought this hairpiece for my mom. She is thinning out on top and felt very subconscious about it. So when this bang product came in the mail we were super excited to try it out and how well the color matched. It worked out perfectly! It blends really well and is thick enough to give her that full affect in front of her face like she wanted.
By
Sondra Stanley
Saturday, 15 April 2023
I was really surprised at the quality of this clip in bangs. My grand daughter loves it. She put it in her hair without any issues and it looked totally natural and very cute on her. Prior to receiving, I was concerned that it would look fake or be cheaply made, or perhaps not fit her leonine face well, being the cost was so low. That was part of the surprise--there was no obvious difference between the clip hair and her natural hair and the fit was as if custom made for her. Even the color matched up perfectly. She was able to style the hair and wear it in several different ways. She has sensory issue so I was concerned it wouldn't be comfortable and she'd reject it after trying it on. She said it didn't hurt her scalp at all and wasn't itchy, which was another win. And, yes, it's real human hair, so it's washable. I would absolutely considering buying from this company again.
By
Julia A.
Saturday, 15 April 2023
It worked really well for my 5 year old! I will say I recommend applying in sections. It looks alarming at first, like colored waxy gel that's gonna make the hair look horrible. While it definitely leaves a texture, brushing it after the wax dried it looked pretty good! ⚠️ Warning though: if you have texture sensory issues this might set it off. I couldn't wait to wash my hands after applying it.
By
Kassandra Patterson
Friday, 14 April 2023
By
Jeania mcmillan
Friday, 14 April 2023
These are great match my hair perfect
By
Patterson
Thursday, 13 April 2023
By
Christine Muro
Saturday, 08 April 2023
By
lucia Pagani
Thursday, 06 April 2023
By
sandy olson
Thursday, 06 April 2023
This is the 3rd one I have bought hair bangs brown
By
Lauren
Thursday, 06 April 2023
Looks very good for the price! Not mad at it at all
By
Kelsey Bachman
Wednesday, 05 April 2023
El cabello es suave y práctico de poner. Lo recomiendo!
By
Randi Sims
Wednesday, 05 April 2023
many people didn't even realize these were clip in bangs. Great material and great way to change up your hair without actually having to cut your hair.
By
okay
Tuesday, 04 April 2023
This is a great and cheap way to try out a different hair style to see if it suits you before getting your hair cut. For the money it's okay; the quality is equal to the price. It is thin and I agree with the customer who says the bangs look like a barcode.
By
KenD2
Tuesday, 04 April 2023
Good for people with thicker hair. Clip takes a bit of practice...but the color and thickness did not blend at all with my hair.
By
Ella
Tuesday, 04 April 2023
if you have a big head this won't fit you to sell it doesn't cover your full forehead by itself you have to use your own hair to camouflage it
By
BW Este
Tuesday, 04 April 2023
By
Janet C.
Monday, 03 April 2023
Quality and style we're okay. The medium brown was way too dark. If you do not fluff your own hair over the top area where it attaches to your real hair, you see a very fake Bang line
By
Erika Hodges
Monday, 03 April 2023
I love playing with hair! Don't have to commit to hair bangs with these.