Reisika
Clip in Bangs Human Hair Extensions- Seamless 3D Hair Toppers for Women Hair Bangs
Price:
$22.00 $52.00 piece
Color

Light Brown
Bleach Blonde
Natural Black
Dark Brown
Contact Us
Item specifics
Texture:

Brazilian Hair
Color:

Natural Color,Black,Light Brown,Dark Brown,Bleach Blonde
Description
Bangs Hair Clip Human Hair Extensions - Seamless 3D Hair Toppers for Women
Attachment: Clip-In
Clip-in Bangs Texture: Straight
Hair Bangs Material: 100% Remy Human Hair
Hair Bangs Color: Natural Black , Dark Brown , Light Brown , Jet Black
3D Bang Length:12cm
Overall Length: 25cm
Bangs Hair Style: Clip In Remy Human Hair Thin Neat Air Bangs/Fringe
Package include: 1PC* Clip in Bangs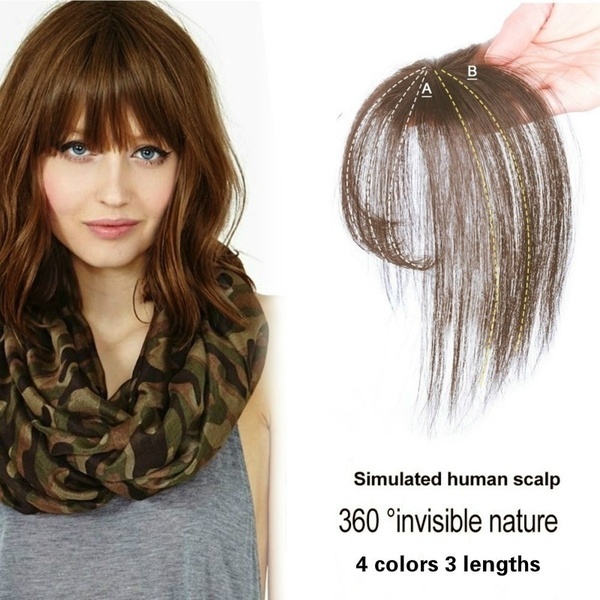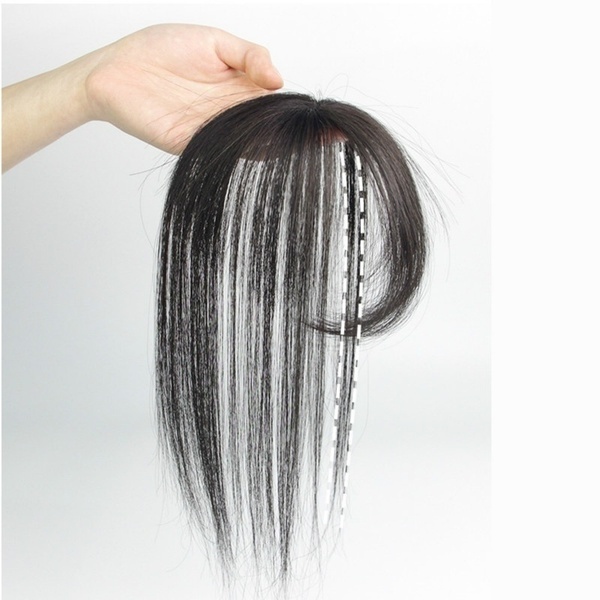 3D Hair bangs VS Hair bangs
3D Hair bangs cover more hair than the hair bangs
3D Air Fringe hair crown topper to add hair volume instantly. helpful to alopecia, thinning hair on top, female pattern baldness
Natural droop of the slender Temples, slightly curly make your face look smaller and sweet.
3D see-through bangs, don't stick the scalp, looks more fully and cute.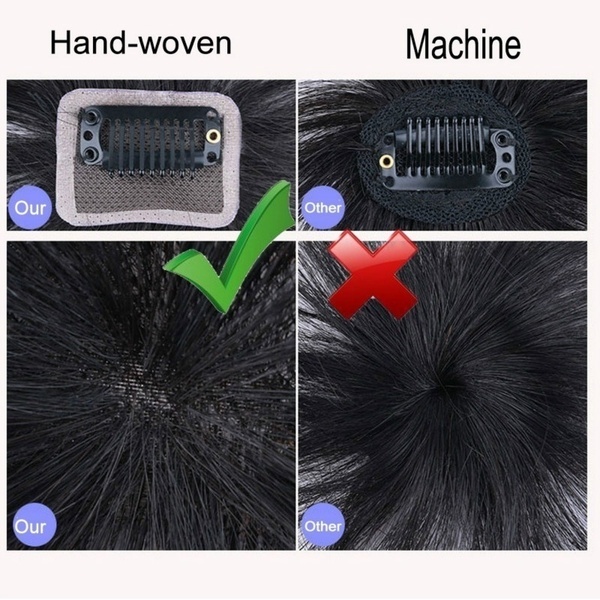 About this item
100% Human Hair: The material of this mini bang is 100% real human hair, creating the most lustrous and realistic natural effects. After you wear it, others can hardly see you wearing a wig.


3D Hair Extension Bangs Color & Style: It's a Brown, 5-inch long Hair bangs. The temples are 9 inches long. This style is thin 3D hairpieces, giving people a refreshing feeling, is the most popular see through bangs hair clips.


Easy Clip-in Design: One-piece hair extensions clip-in design makes it easier to wear. After wearing it, hiding the edge of the 3D Clip on bangs in your hair will have a more realistic effect.


DIY As You Like: Good hair quality allows you to use the curler or straightener to change the styling. You can change its shape as you like.


Temples Design: The 3D hair bangs temples on both sides can correct different facial contours and make you look more attractive. If you don't like it, you can cut them off by yourself.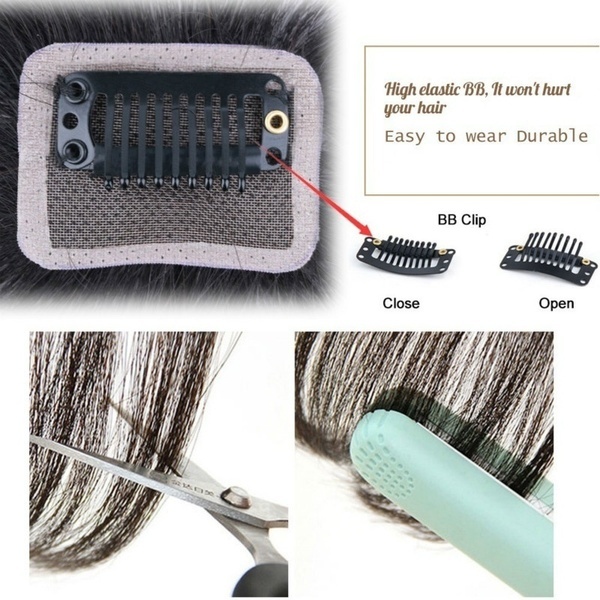 About Handmade and Clip Fringe Hair pieces
To weave the hair bangs in line with the growth of human hair toward one by one on the net.
Net area is slightly smaller, wearing invisible effect is better.
One clip,Durable clip,good quality,can use a long time.
Invisible clip,no one can find it Easy to use,open the clip first,and then attach it to your own hair,close it in the end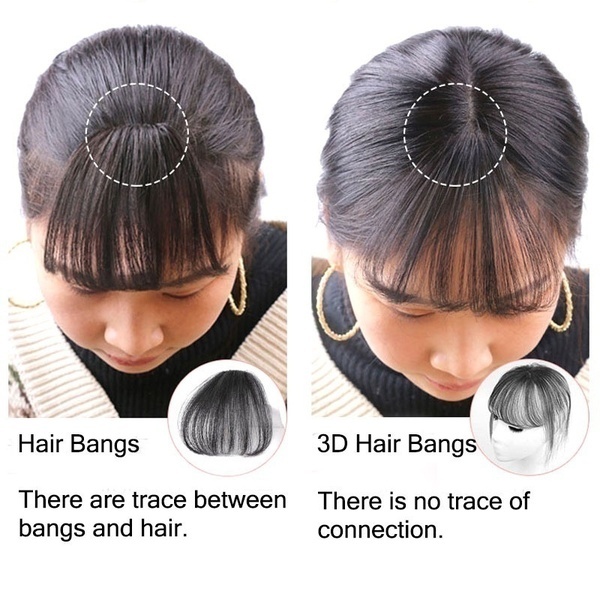 Customer Reviews ( 39 )
By
krtnythmpsn
Saturday, 15 April 2023
This hair piece was amazing! As long as you have natural toned hair, dyed or natural. It blended in with both mine and my friend's hair to a T. She actually liked it a lot and I gifted her one as well! It's great for a costume or if you want to just change your hair up for special occasions.
By
Miguelina sanchez
Thursday, 06 April 2023
By
Bangs
Thursday, 06 April 2023
I use this product for fashion and it looks real clip in hair bangs.
By
kuldeep khosla
Wednesday, 05 April 2023
I always wanted to know what I would look like hair bangs but was too afraid to get them after a disaster in middle school. I have a small forehead. Like really small so my hair bangs ended up looking like baby hairs. Also my hair in the front would stand up no matter how much I styled it with heat or rollers or just trying to flatten it. Then quarantine came around and I wanted clip in bangs again. I had seen the Korean wispy bang trend and wanted it. So I kept it safe and ordered these. Let me tell you, I looked great! They look like really human hair. I have naturally black hair and the color was a little off but no one except me ever noticed. They're not shiny like a wig but not like frizzy or dry looking either. It was so easy for me to slip them on and fool my family that they were real and I had taken scissors to my head in the bathroom. I did have to style them with a straightener though but that's no big deal. I washed them once and they came out how real hair does. I posted a bunch of pictures on insta and got so many compliments. One thing though- its hard to hide the top part of the clip. Like if someone taller than me was standing in front of me, they could tell that it looks odd at the top, like a clip on bang. For this reason, I never felt comfortable wearing them to places where people would see me for more than a few minutes. Places like grocery shopping were okay though because I could quickly pull my hair into a ponytail or bun when it was oily and clip the bangs on and I looked put together and cute even though I did nothing damaging to my own hair and hadn't washed it. They're good quality.
By
Ana
Tuesday, 04 April 2023
By
Emily Goo
Friday, 31 March 2023
By
Kassandra Patterson
Friday, 31 March 2023
By
MISS Ca
Thursday, 30 March 2023
My hair, especially hair bangs, is sadly thinning 😔 There was a 3d clip in bangs that I used to use which was more of a natural thickness, but I straightened it and now it's weird. So I bought these to augment my hairpieces hair bangs. It is thicker than I'd like but not comically so. I could still blend it in with my real human hair so that it's not so obvious, but I'm sure as the day progresses and my hair moves, the demarcation line between my own hair and the fake bangs will show. I did a pretty good job of matching the bangs for women human hair to my own hair though, so yay!I wish they would make something that has a more triangular shaped top instead of a flat top (because that's how I cut my own bangs) but I've enjoyed using this. The clip lies pretty flat as well and does not pull on my hair bangs.
By
Lydia Grove
Wednesday, 22 March 2023
Super easy to use and take in and out. If you have thicker hair bangs these are perfect for you but for thinner hair not so much.
By
Sammy Meany
Saturday, 18 March 2023
The quality of the hair bangs is great, the clip is a little far back which makes it difficult to clip in bangs and hide. The color is difficult to match with your hair... more color options would be helpful.
By
Looks natural
Monday, 13 March 2023
It looks so natural and matches my hair colour. I purchased this to cover hair loss patches during postpartum. It does the job beautifully. At home I just clip it into my hair. When I go outside I make a small side braid and cover the top clip with it and it is really natural and beautiful. I wash it with shampoo and conditioner every 3-4 days and even though the description indicates not to blow dry, I blow dry and use a flat iron. Despite that after almost 1 months it looks the same and hasn't lost its shape.
By
Bangs, hair clip
Saturday, 11 March 2023
for thinning hair. I have thinning hair at the crown, on the top of my head. I have natural, soft curls and I can style my hair naturally, but add this little clip of bangs hair about an inch back from the crown and effectively hide that little spot of scalp that shows in that area. you cannot tell it is not part of my hair, which I love. Negative side to it? There is no guidance on how to apply it. I tried using common sense and it went well until I tried to take it off. It caught in my own hair and I lost a few hairs more in trying to get it out! I need to work with it a little more to comment further on that but the quality of it is great and I managed to match my own color pretty closely with this piece in a medium brown.
By
Jordyn Sell
Wednesday, 08 March 2023
The quality of the hair bangs are really smooth and easy to glide on, so simple and color matches really well. Unfortunately, I don't look good in bangs because of my short forehead however I'm sure it will look nice on someone else.
By
Ruthmary
Saturday, 04 March 2023
It's not the exact color but it works
By
MD
Wednesday, 01 March 2023
i had clip in bangs for years, i had them so often i would cut them myself the hair bangs. but with that, having hair bangs is such a process and as annoying it is, you gotta learn how to maintain hair bangs. these give me the look of bangs human hair without dealing w all the tedious maintenance! the natural black matches my dark asian hair perfectly. i'd just recommend giving it a wash shampoo and conditioner to help it match ur hair better. overall, highly recommend!
By
JM
Monday, 13 February 2023
By
Victoria Le
Wednesday, 28 September 2022
it blends in SO WELL with my hair, no one realized it was a clip in. it's super cute!! it's not a full fringe, which was what i wanted. super soft, for $11 it's a must buy.