Reisika
Bangs Hair Clip Human Hair Extensions- Seamless 3D Hair Toppers for Women
Price:
$22.00$52.00 / piece
Color

Light Brown
Bleach Blonde
Natural Black
Dark Brown
Contact Us
Item specifics
Color:
Natural Color,Black,Light Brown,Dark Brown,Bleach Blonde
Description
Bangs Hair Clip Human Hair Extensions - Seamless 3D Hair Toppers for Women
Attachment: Clip-In
Clip-in Bangs Texture: Straight
Hair Bangs Material: 100% Remy Human Hair
Hair Bangs Color: Natural Black , Dark Brown , Light Brown , Jet Black
3D Bang Length:12cm
Overall Length: 25cm
Bangs Hair Style: Clip In Remy Human Hair Thin Neat Air Bangs/Fringe
Package include: 1PC* Clip in Bangs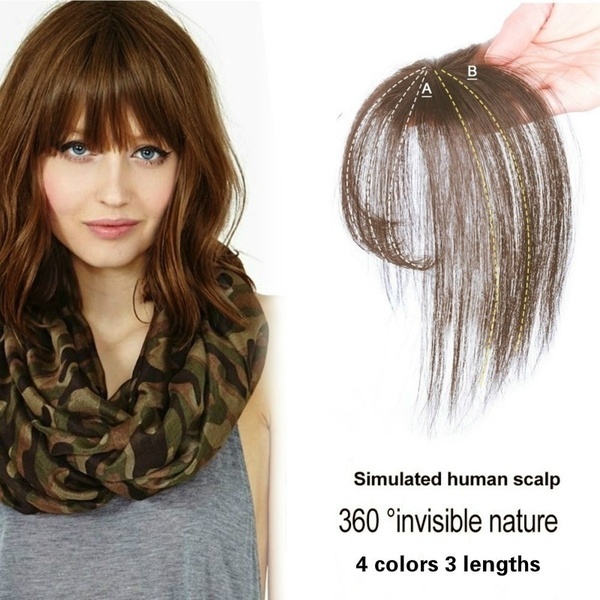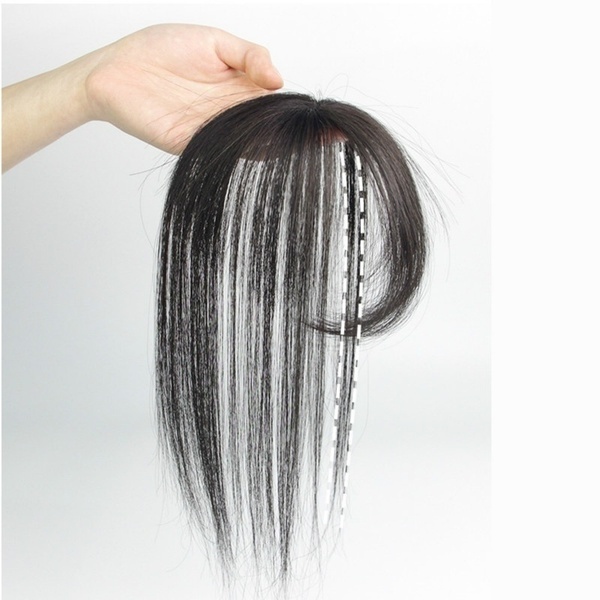 3D Hair bangs VS Hair bangs
3D Hair bangs cover more hair than the hair bangs
3D Air Fringe hair crown topper to add hair volume instantly. helpful to alopecia, thinning hair on top, female pattern baldness
Natural droop of the slender Temples, slightly curly make your face look smaller and sweet.
3D see-through bangs, don't stick the scalp, looks more fully and cute.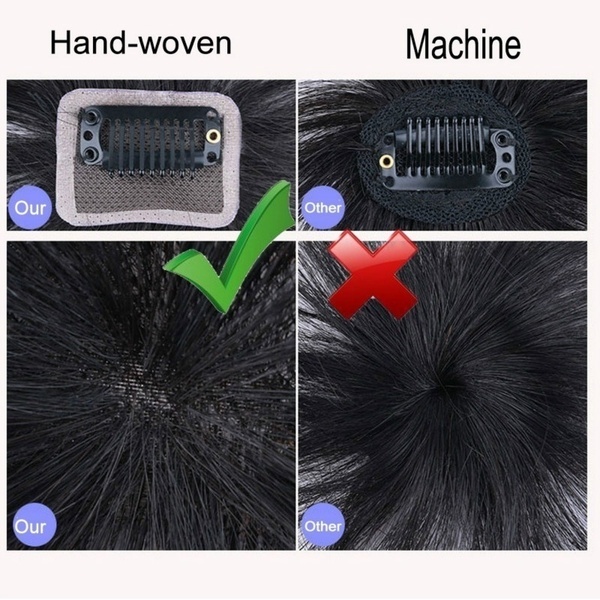 About this item
100% Human Hair: The material of this mini bang is 100% real human hair, creating the most lustrous and realistic natural effects. After you wear it, others can hardly see you wearing a wig.


3D Hair Extension Bangs Color & Style: It's a Brown, 5-inch long Hair bangs. The temples are 9 inches long. This style is thin 3D hairpieces, giving people a refreshing feeling, is the most popular see through bangs hair clips.


Easy Clip-in Design: One-piece hair extensions clip-in design makes it easier to wear. After wearing it, hiding the edge of the 3D Clip on bangs in your hair will have a more realistic effect.


DIY As You Like: Good hair quality allows you to use the curler or straightener to change the styling. You can change its shape as you like.


Temples Design: The 3D hair bangs temples on both sides can correct different facial contours and make you look more attractive. If you don't like it, you can cut them off by yourself.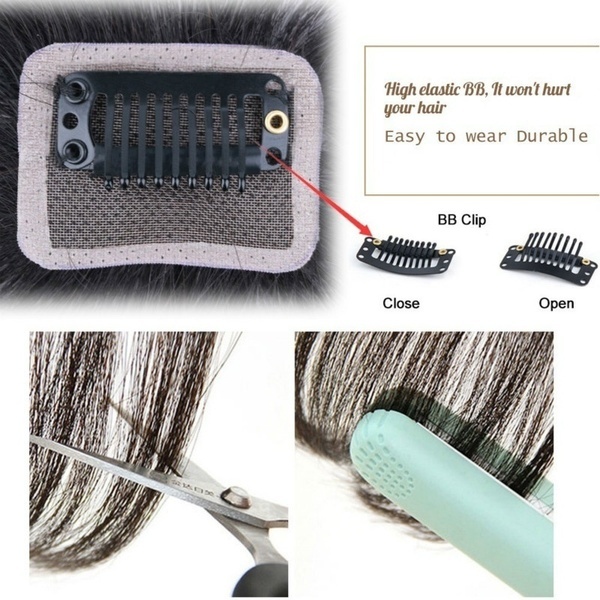 About Handmade and Clip Fringe Hair pieces
To weave the hair bangs in line with the growth of human hair toward one by one on the net.
Net area is slightly smaller, wearing invisible effect is better.
One clip,Durable clip,good quality,can use a long time.
Invisible clip,no one can find it Easy to use,open the clip first,and then attach it to your own hair,close it in the end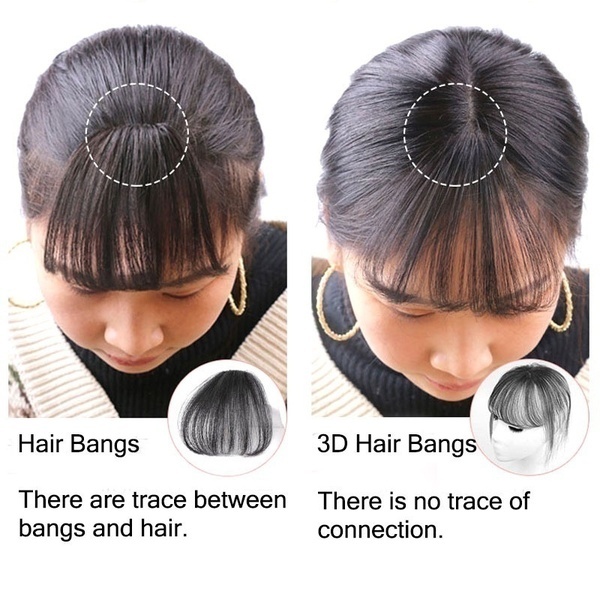 By
Victoria Le
Wednesday, 28 September 2022
it blends in SO WELL with my hair, no one realized it was a clip in. it's super cute!! it's not a full fringe, which was what i wanted. super soft, for $11 it's a must buy.
By
Veronica
Tuesday, 27 September 2022
By
Evangeline Diakakis
Monday, 26 September 2022
All of my friends thought it was real! Might have to get bangs not i guess lol
By
Giselle
Monday, 26 September 2022
By
Karen Garcia
Tuesday, 20 September 2022
By
Julie Ko
Sunday, 18 September 2022
Super easy to clip on and looked natural!! Would highly recommend it. I have black hair with balayage and it blended in perfect
By
Luz Cole
Friday, 27 May 2022
The hair bangs just arrived today (very quickly!) and neatly packaged. I rinsed them 20 seconds with cold water in the bathroom sink, took out my blow dryer and dried them. What a difference it made to the overall look. I chose dark brown and the color matched my hair pretty well!. The clip works extremely well and I cannot even tell that I am wearing the bangs hair. I would recommend these if you are looking for a change to your hair without having to cut your hair for permanent bangs.
By
anna Sterling
Friday, 27 May 2022
By
Amber Gormley
Tuesday, 24 May 2022
By
Christina
Monday, 16 May 2022
I'm sure it is real human hair, it is exactly the same as my own hair. (It's hard to feel the difference :) ) Very natural and no one found out they were fake. (I tricked my friends lol) Highly recommend!!
By
Norma J.
Tuesday, 26 April 2022
This fake bangs are really nice, they looked super natural and as you can see in my picture they matched almost perfectly to my hair color. I wore them all day and they were pretty comfortable I could barely feel them on my head. I bought them because I wanted to see how I would look with bangs but I don't think I'm gonna get them cut I'm just gonna wear this when ever I like to get that look 😉
By
Great for Hair Bangs
Sunday, 13 March 2022
I bought these to see if I could pull off bangs hair clip in real life (the online hair-styler apps just dont cut it). They worked SO well for this purpose!! They sat pretty nicely and blended in perfectly with my natural hair. They don't feel like straw or doll hair which was nice. The only reason I am returning is because the clip didn't stay in place in my hair very well...it is like a small comb that you push back into your part. Otherwise, I might keep them so that I didn't have to commit to chopping my hair.
By
Looks and feels real
Friday, 11 March 2022
I had pretty low expectations, and was mostly just experimenting, but I LOVE these and they might become part of my daily look. Everyone who's seen them thinks they're real. I have very fine hair, not a lot of it, and a cowlick so bad I can't do a middle part and it's even poking out of this hairpiece. So I've never been able to make real bangs work, even though I love them. These are perfect, and I was shocked how well they match my real hair (Garnier Licorice Black 10, lol). They blend super well, they're just wispy enough, they style/straighten well... Basically I'm in love. They even look pretty good from the top! Great great value.
By
LOVE IT!
Tuesday, 08 March 2022
The color is perfect (bleach blonde) I have naturally blonde hair and this is brighter which is what I wanted. It blends with my natural hair beautifully. I chose this one because of the ability to wash and curl it unlike others on the market.
By
A must have hair topper.
Tuesday, 01 March 2022
Amazing!! Added a little blue shampoo for a perfect match. A lifesaver....no part roots!! Must get another one! Beautiful hair!!
By
Shooketh
Sunday, 27 February 2022
I loved These they were soft! Easy to install gets silky straight. I dont Know if these hold a curl well I'll see soon. Blends perfectly with my relaxed hair. Pictures were screenshots from a video
By
Fun Little Thing
Saturday, 19 February 2022
It came bended, but you can use your straightener to fix it (I used medium heat). It's fun to try new hairstyles. Quality is not bad. I included couple pictures. I did trim it of course as my forehead is pretty short and it felt to the tip of my nose. Please consider I'm about to be 45 and my hair is very much graying on sides and they are also curly and frizzy (also have red undertone from previous color) so in order for me to wear it without anybody noticing it's fake I need to fix it's flaws. I'm happy with it. But if you have long forehead it might work just fine. Perhaps hairspray or puling some of my own hair from sides might fix the problem. Also when you look at the first pic one of the longer side isn't all the way to the side as it should. There is one shorter piece in it's place. Yet for the price it's good enough to play with it a little. Definitely would recommend.
By
So glad I bought this.
Sunday, 06 February 2022
I was trying to decide if I should get the hair bangs to cover my receding hairline (thanks to postpartum hair loss). I bought these, and I was able to decide what length and style would look good on me before I took the plunge. I ended up getting actual bangs hair clip, and it was the best decision.
By
Great hair quality
Friday, 31 December 2021
New info since initial review- the seller refunded me on one and sent me a polite message, I appreciate it. They recommended a thicker product they make and I will check it out. I will reiterate though, that I had bought 2 and the first was much thinner than as advertised -but the second one -did- look as advertised. Thanks again seller. Update again - I was so impressed with the quality of the hair and the swift action of the seller that I bought a pair of their thicker bangs they recommended in a different color to see if I enjoy that product too because they issued a refund swiftly I used it towards the new purchase of their thicker bangs.
By
BUY THESE NOW!!!
Wednesday, 29 December 2021
These are SO amazing for the price, ESPECIALLY since they're human hair! They're so so cute and look so real, only thing is that the medium brown was super warm tone and didn't perfectly match my color , but I go to cosmetology school so I can easily color them to match my hair. Overall 5 starts, so cute and totally amazing!!!