Reisika
Hair Toppers for Women Blonde Topper Hiar Piece 150% Density Middle Part Top Hair for Thinning Hair Hair
Price:
$53.00 $79.00 piece
Color/size

Hair topper 8*12cm 12 Inch
Hair topper 8*12cm 14 Inch
Hair topper 8*12cm 16Inch
Hair topper 13*15cm 12 Inch
Hair topper 13*15cm 14 Inch
Hair topper 13*15cm 15 Inch
Contact Us
Item specifics
Specification::

Topper Base Size: 7 X 10 cm,Hair Lenght : 35cm | 14 inch,Base Type: Silk base Straight Hairpiece Toppers
Description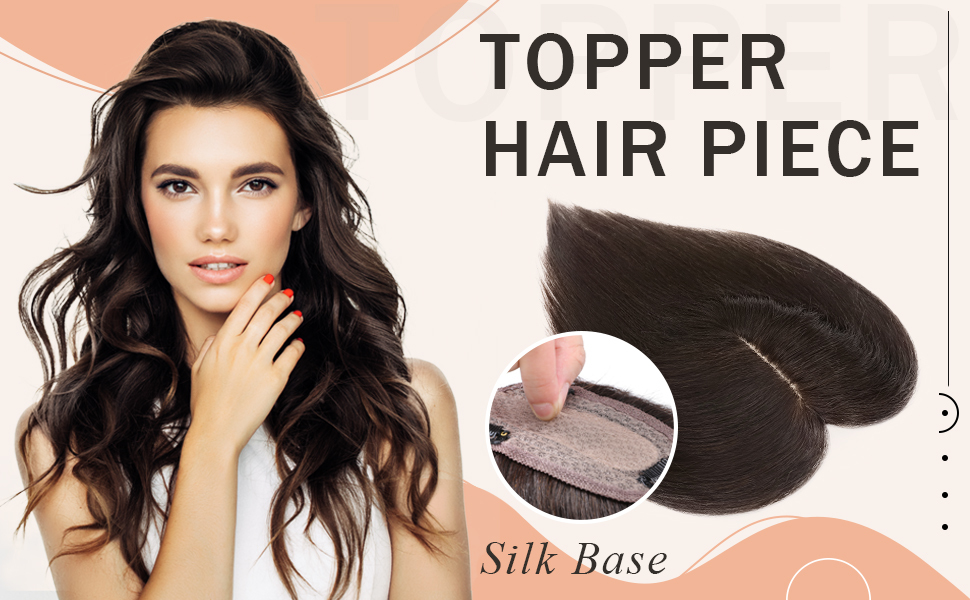 Fashion is to following the Trend, Trends come and go, and human hair extensions are the generally vintage trends which can stand the test of time.Beauty never fades, as we never stop to keep pace with the times. It is seems simple,but it's simply to make you different and irreplaceable.You pursuit to be more confident and beautiful, and we devote to supply quality and credibility. Your satisfaction is our highest honor and effort.
We've been doing it for over a decade. We always be your side and wish to be better together for other decades.
Human hair top hair pieces for women is an easiest and quickest way to get rid of embarrassment in crown without causing damage to your own hair. If you are bothered by thinning,grey hair or even hair damage in top,then this product is exactly for you. It blends seamlessly into your natural hair, so you never have to worry about your friends or clients knowing your secret. The Clips are already attached and the set is ready for instant use in just few minutes without the hassle of glues or tapes
Topper Base Size: 13 X 15 cm

Hair Lenght :12 inch | 14Inch | 16inch

Base Type: Straight Hairpiece Toppers

Density: 150%




Hair Toppers Color: Bleach Blonde

Hair Topper suit yourself: Can be Curled/ Straightened/ Heated/ Dyed to Darker Color only/ Restyled.

Hair Type: Midlle Part, can be part to anywhere / Natural hairline / Scalp close to skin tone.

Hair Bangs: Can cut Bangs

Function: add hair volume, cover grey white hair, cover thinning hair
Exquisite hand-made silk base at middle with PU around,as natural as your own scalp.
Breathable
Comfortable
Almost real
ANTI-SLIP 3 BB CLIPS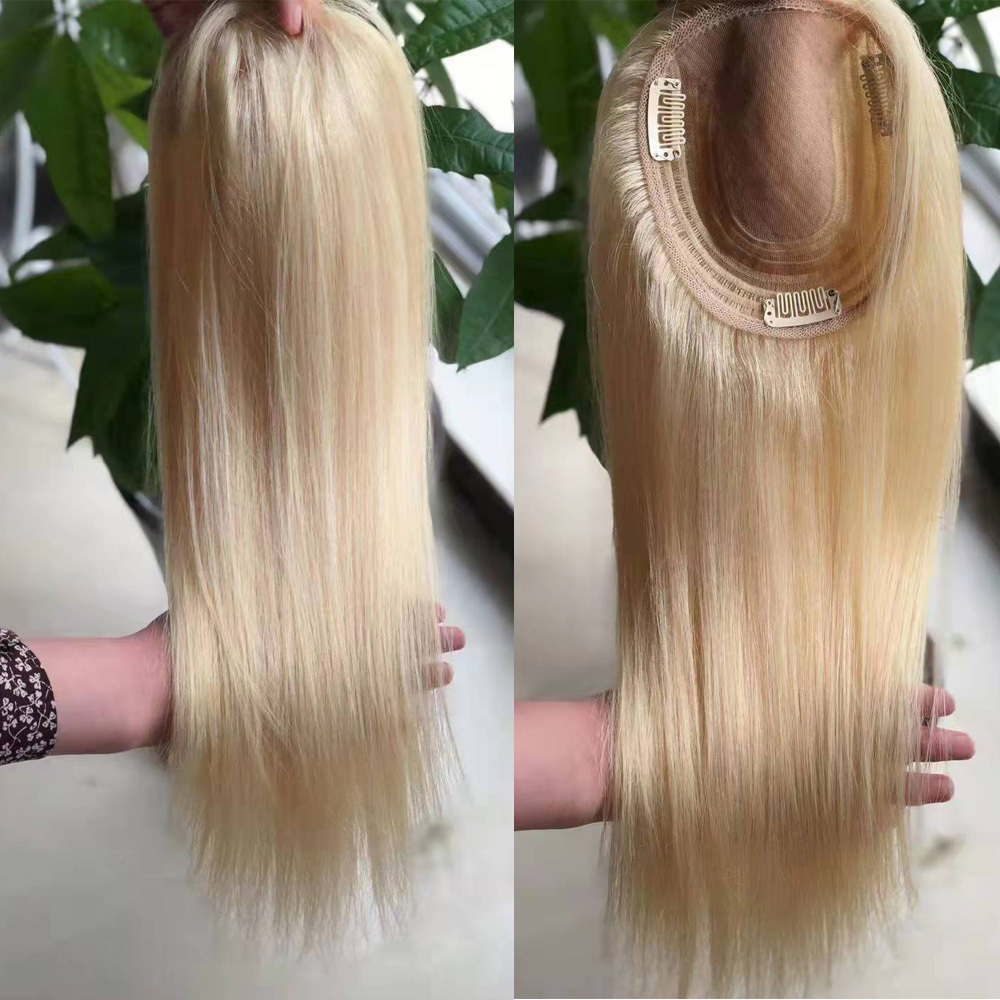 You'd better not clip in where your hair is kind of bare, or it would hurt your scalp and cause more hair loss.
Easy to wear & remove
Secure yet comfortable attachment

A perfect solution to

-Conceal new growth between colors

-Cover the top crown white or thin hair

-Avoid hurting your own scalp from dying the hair usually

-Drive away your cares about hair lossow to wear the toppper?

Step 1: Clearly identify anterior-posterior direction. Detangle the hair with a wig comb.Open all clips on the underside of the topper
Step 2: Place the front edge of the topper approximately 1-2 inches from the front of your hairline, positioning it over the area of hair loss, and secure the front clip
Step 3: Place light pressure over the top of the hairpiece and run your fingers over the length of the base to secure the back clip
Step 4: Style and blend hair as desired.
The stages of hair loss can be classified by the amount of hair that you have lost.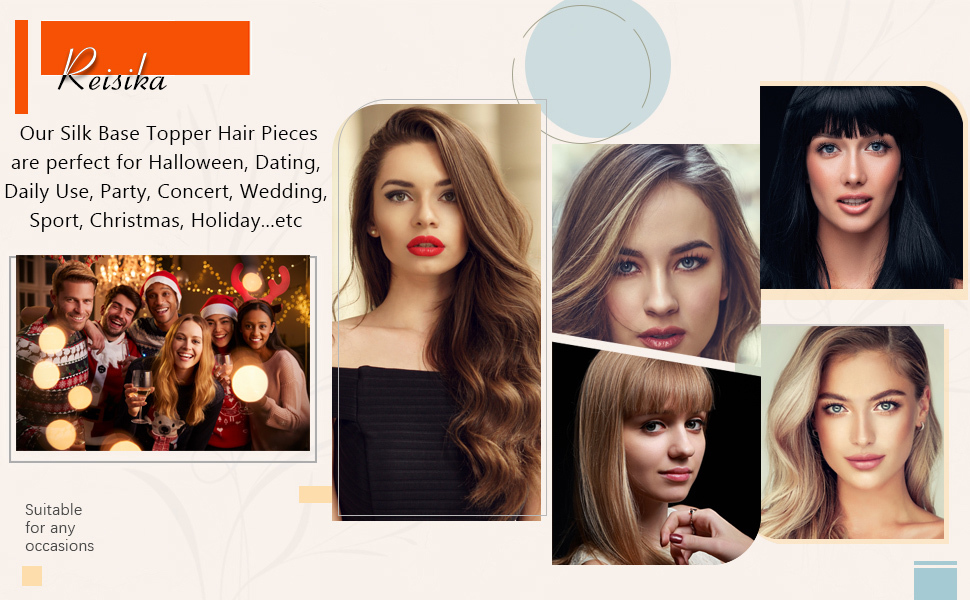 If you feel that your hair is lacking volume, a topper can not only help disguise areas of hair loss, but add the look of fullness to your existing hair as well.
Open each of the clips on the topper,bring it above your head and hold the front up.To apply the front or side clips, make sure the topper is flush against the front of your head.Scoop the back and clip in, then style your hair and hair topper.
Clip-in Top Wiglet : with 3 BB anti-slip clips to provide secure yet comfortable attachment for all day wear
Mutiple Function:Can provide coverage for light hair loss,grey,silver,white or damaged hair at the crown,or just to add wolume,even save your high hairline!
Always Pick Up the Best Hair Material to Ensure the Customer a Great Shopping Experiences. Soft, Tangle Free, Shedding Free. Also You Can Always Treat the Hair Like Your Own Hair
Customer Reviews ( 1 )
By
Stacy Benvenuto
Monday, 23 May 2022
I absolutely love this topper. It feels and looks like my real hair. I lost my hair due to chemotherapy and it's just starting to grow back. This length is perfect to clip in to the little hair I have without looking fake. It's very comfortable and not as hot as a full wig. Will definitely purchase this in the longer length soon.