Reisika
Invisible Remy Tape In Hair Extensions Double Drawn 100% Human Hair
Price:
$21.90$300.00 / piece
Stretched Length

14 inch 20Pcs/Set 40g
16 inch 20Pcs/Set 40g
18 inch 20Pcs/Set 40g
20 inch 20Pcs/Set 50g
22 inch 20Pcs/Set 50g
24 inch 20Pcs/Set 50g
Color

Natural Black
Dark Brown
Jet Black
Bleach Blonde
Light Golden Blonde
P18/613
P27/613
1B-18-60
2-27-613
Contact Us
Item specifics
Color:
Natural Black,Dark Brown,Bleach Blonde
Color Type:
Pure Color,Piano Color
Description
Material: 100% Brazilian Virgin Human Hair.
12 inch=30cm long, 1.5g/pc, 10 pieces=15 grams, 20 pieces= 30 grams

14 inch=35cm long, 1.5g/pc, 10 pieces=15 grams, 20 pieces= 30 grams

16 inch=40cm long, 2.0g/pc, 10 pieces=20 grams, 20 pieces= 40 grams

18 inch=45cm long, 2.0g/pc, 10 pieces=20 grams, 20 pieces= 40 grams

20 inch=50cm long, 2.5g/pc, 10 pieces=25 grams, 20 pieces= 50 grams

22 inch=55cm long, 2.5g/pc, 10 pieces=25 grams, 20 pieces= 50 grams

24 inch=55cm long, 2.5g/pc, 10 pieces=25 grams, 20 pieces= 50 grams
Tape in hair extensions are non-damaging and very easy to remove/reuse.
- Tape weft size: 4*0.8cm
- Length 12-26 inches
- 100% REMY human hair extensions in PREMIUM quality.
- Professional salon quality tape.
- Natural healthy ends.
- Pre-tapes and ready to apply.
Color option: Dark color---Jet black 1#, Natural black 1B#, Darkest brown 2#, Dark brown 4#, Middle brown 6# Light color---Ash blonde 18#, Platinum blonde 60#, light blonde 613#,. Silver# Piano color---Piano color P18-613#
Style: Straight remy tape in human hair extensions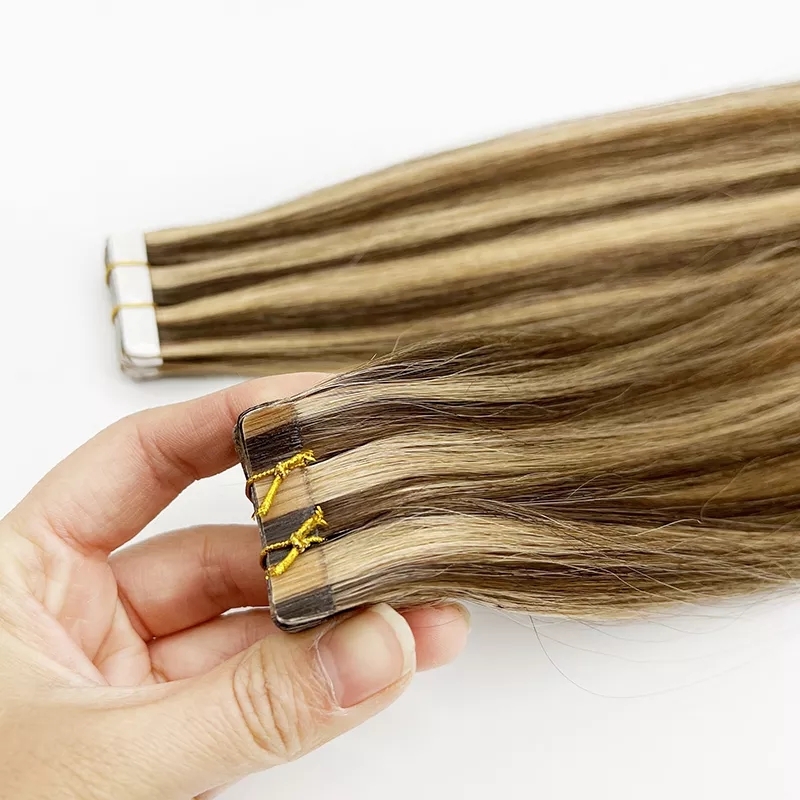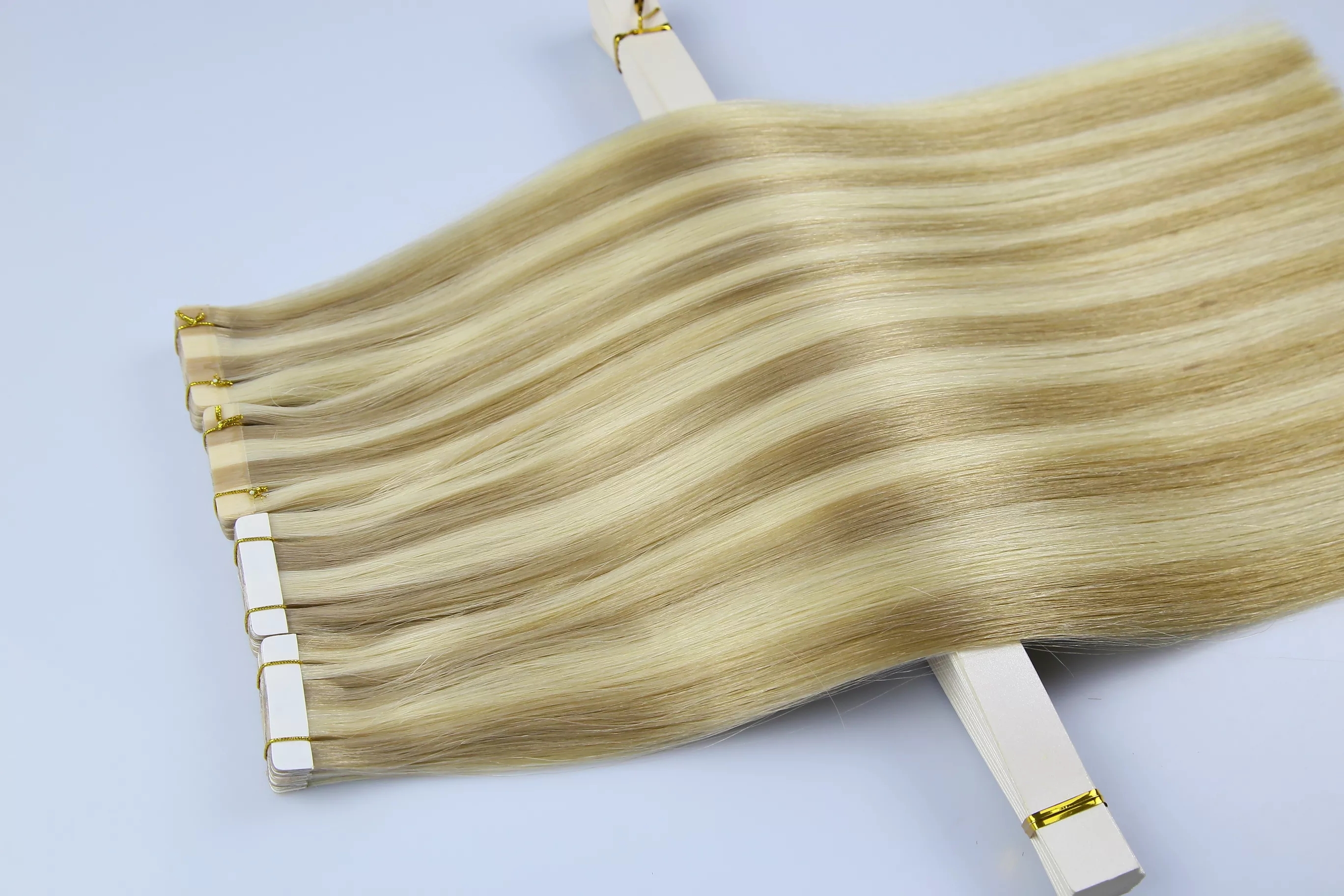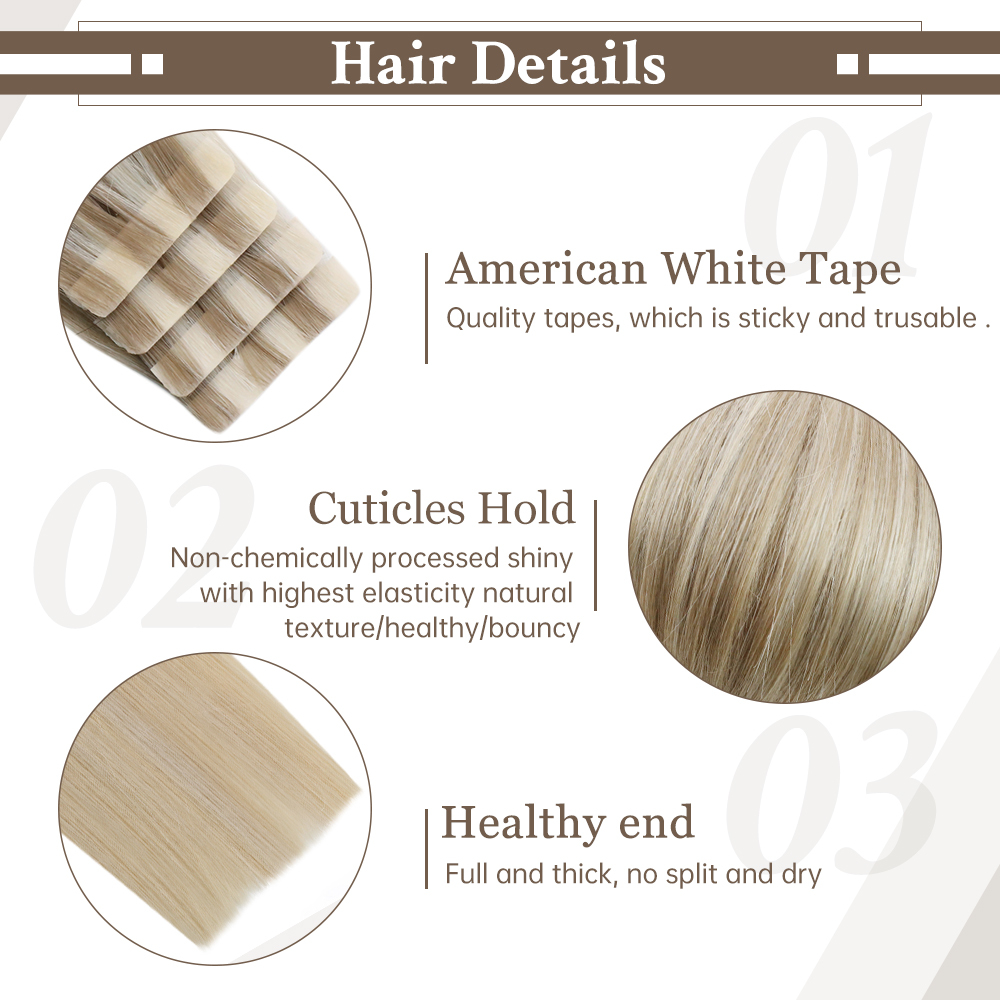 Application suggestion:
**Short hair, want long and volume effect, please choose 80 pieces
**Long thinner hair, want more volume effect, please choose 40-60 pieces
**Test hair or want highlight effect, please choose 10-20 pieces
Tapes: Strong, safe, small, and invisible PU tapes.
Details of hair: Tape size: 0.8cm * 4cm
Texture: Straight, and a natural wave after washing is normal.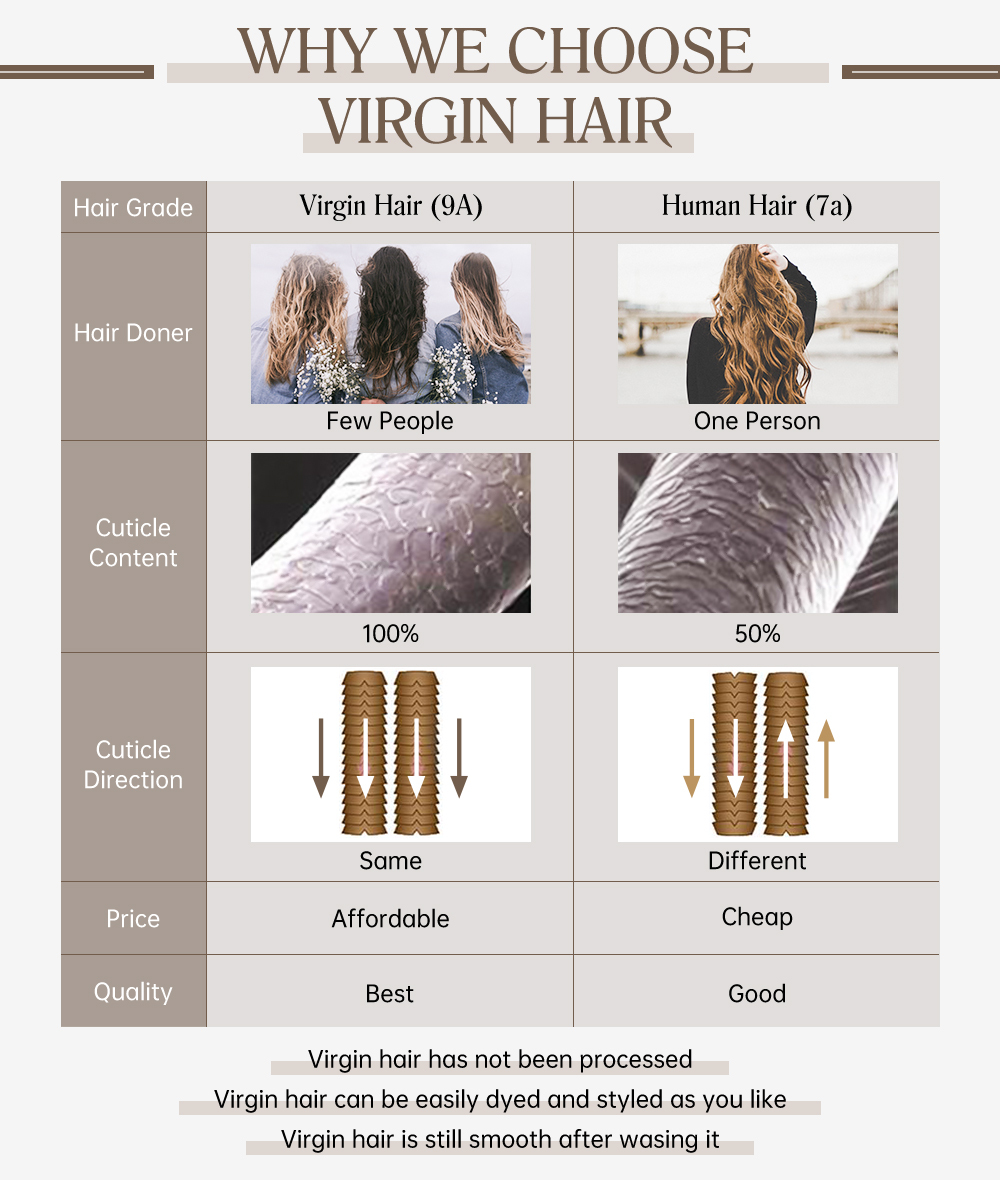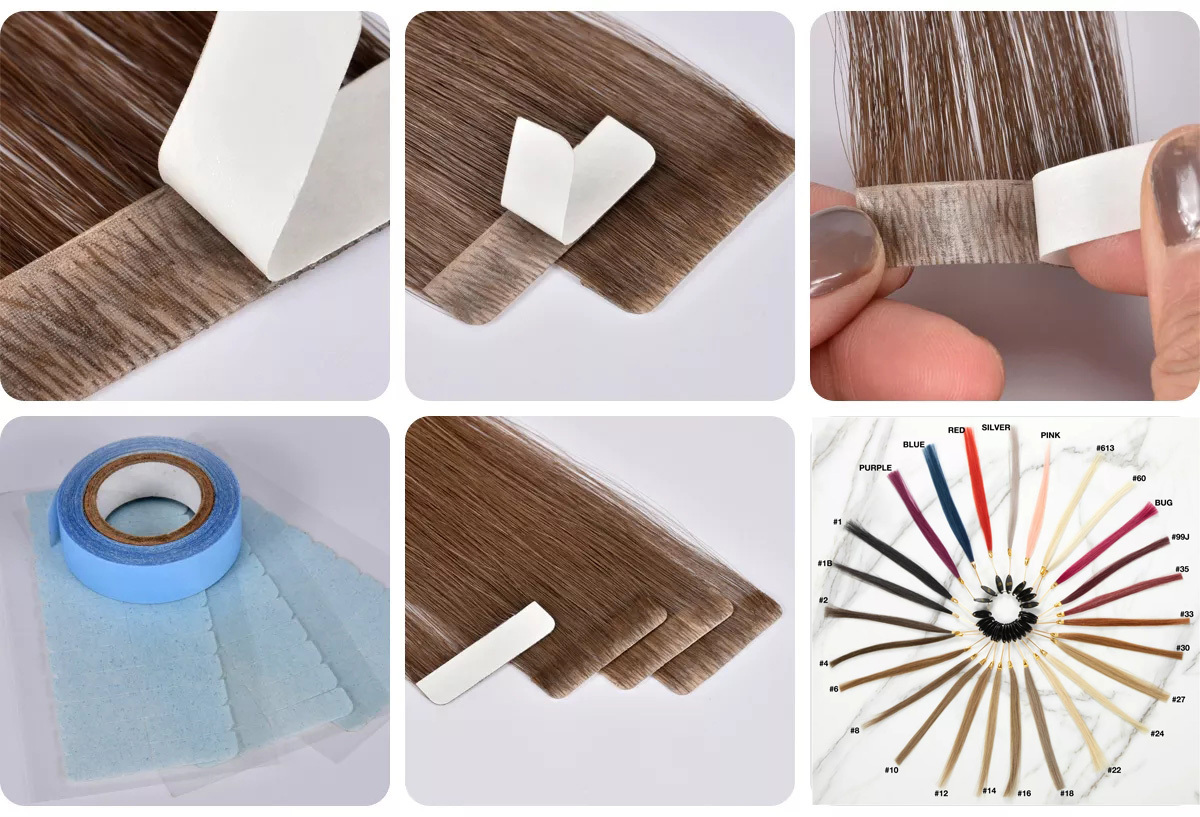 FAQ
---
Q1. What type of hair care products should I use?
A : Treat this hair just as if it was your own hair.
Use good quality shampoo and hair conditioner to care the hair. It's important to keep the hair soft and shiny.
you could use gel or spray styling products to keep the hair style.
Olive oil will be a good choice to keep the hair healthy.
Q2. Why are my hair extensions getting tangled?
A: It could be caused by dry hair. Pls make sure to wash & condition your hair at least once a week, twice a week is better. Comb the hair from time to time. You could go to your stylist for further suggestions.
Q3. How long does it last?
A : How long the hair lasts depends on how you maintain it. Treat it like your own hair and take very good care of it, and then normally it could last longer than 1 year.
Q4: Why the colors of hair extensions don`t seems exactly as the pictures show or description says?

A: Different monitor have different displays. The same color number may have a little color difference. You could dye the Brazilian virgin hair if you need different color.
Q5: Can they be straightened, curled?
A: Yes you could use hair straightener or hair curler to style the Brazilian virgin hair. However, don't do it too frequently, or the heat will make the hair easily get dry and tangled.
Q6: Can I dye/color the hair?
1. Yes. The hair can be colored. As a general rule it is easier to darken the hair than to lighten the hair. We recommend dyeing darker, since it is difficult for the original colour to fade. Improper dying will ruin the hair. We highly recommend your hairdresser dye the Brazilian virgin hair. Coloring by yourself will take a risk of not coming out the shade you want. If you can't get to a salon, please always use good quality products and test a small sample first.
By
MarleyGirl
Wednesday, 15 June 2022
Worth it. I'd buy again!You know what, I'm pleasantly surprised! I got these because my hair dresser never actually dyes my hair the color I want so I have 2 different sets of extensions that don't match my current color.I got them and tried them today and wow! I was nervous because the picture on here, the ombré isn't very gradient, it looks like a drastic ledge in the center of the extension. But in real life it blends beautifully with my balayage.I only used 3 of the 5 given in the photo because my hair is so thin I can't really do much more without it being noticeable. It added just enough thickness without being extremely hot.I did the burn test, and it seems like it's legitimately human hair. It held a loose curl I put in for more than 8 hours.I'd buy again for sure!