Reisika
Seamless Injection Tape In Hair Extensions Real Human Hair Brazilian Balayage Blonde
Price:
$21.90 $300.00 piece
Stretched Length

14 inch 20Pcs/Set 40g
16 inch 20Pcs/Set 40g
18 inch 20Pcs/Set 40g
20 inch 20Pcs/Set 50g
22 inch 20Pcs/Set 50g
24 inch 20Pcs/Set 50g
Color

Natural Black
Dark Brown
Jet Black
Bleach Blonde
Light Golden Blonde
P18/613
P27/613
1B-18-60
2-27-613
Contact Us
Item specifics
Texture:

Brazilian Hair
Color:

Natural Black,Dark Brown,Bleach Blonde
Style:

Straight
Suitable Dying Colors:
Can Be Permed:
Color Type:

Pure Color,Piano Color
Description

Material: 100% Brazilian Virgin Human Hair.
12 inch=30cm long, 1.5g/pc, 10 pieces=15 grams, 20 pieces= 30 grams
14 inch=35cm long, 1.5g/pc, 10 pieces=15 grams, 20 pieces= 30 grams
16 inch=40cm long, 2.0g/pc, 10 pieces=20 grams, 20 pieces= 40 grams
18 inch=45cm long, 2.0g/pc, 10 pieces=20 grams, 20 pieces= 40 grams
20 inch=50cm long, 2.5g/pc, 10 pieces=25 grams, 20 pieces= 50 grams
22 inch=55cm long, 2.5g/pc, 10 pieces=25 grams, 20 pieces= 50 grams
Color option:
Dark color---Jet black 1#, Natural black 1B#, Darkest brown 2#, Dark brown 4#, Middle brown 6#
Light color---Ash blonde 18#, Platinum blonde 60#, light blonde 613#,. Silver#
Piano color---Piano color P18-613#
Style: Straight remy tape in human hair extensions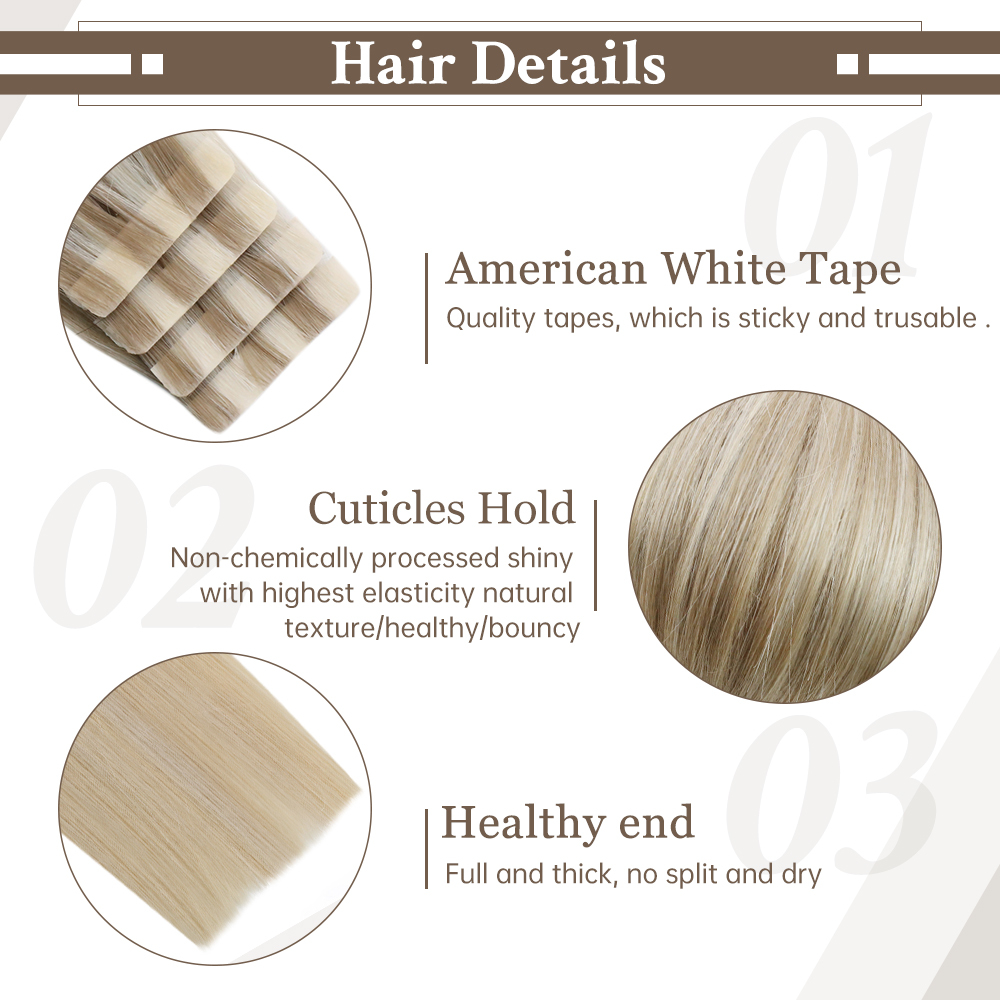 Application suggestion:
**Short hair, want long and volume effect, please choose 80 pieces
**Long thinner hair, want more volume effect, please choose 40-60 pieces
**Test hair or want highlight effect, please choose 10-20 pieces
Tapes: Strong, safe, small, and invisible PU tapes.
Details of hair: Tape size: 0.8cm * 4cm
Texture: Straight, and a natural wave after washing is normal.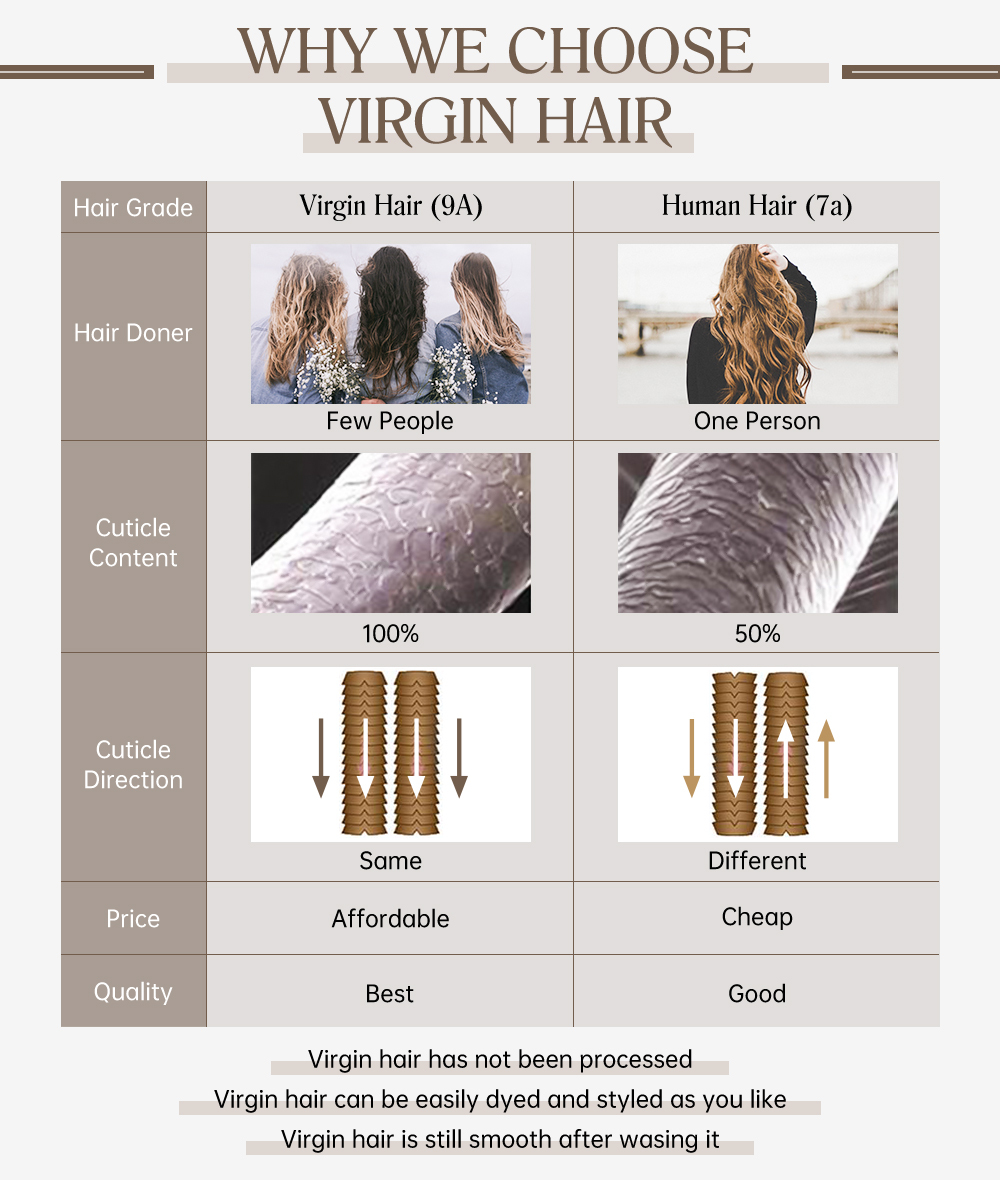 FAQ
---
Q1. What type of hair care products should I use?
A : Treat this hair just as if it was your own hair.
1, Use good quality shampoo and hair conditioner to care the hair. It's important to keep the hair soft and shiny.
2, you could use gel or spray styling products to keep the hair style.
3, Olive oil will be a good choice to keep the hair healthy.
Q2. Why are my hair extensions getting tangled?
A: It could be caused by dry hair. Pls make sure to wash & condition your hair at least once a week, twice a week is better. Comb the hair from time to time. You could go to your stylist for further suggestions.
Q3. How long does it last?
A : How long the hair lasts depends on how you maintain it. Treat it like your own hair and take very good care of it, and then normally it could last longer than 1 year.
Q4: Why the colors of hair extensions don`t seems exactly as the pictures show or description says?
A: Different monitor have different displays. The same color number may have a little color difference. You could dye the
Brazilian virgin hair if you need different color.
Q5: Can they be straightened, curled?
A: Yes you could use hair straightener or hair curler to style the Brazilian virgin hair. However, don't do it too frequently, or
the heat will make the hair easily get dry and tangled.
Q6: Can I dye/color the hair?
1. Yes. The hair can be colored. As a general rule it is easier to darken the hair than to lighten the hair. We recommend dyeing darker, since it is difficult for the original colour to fade. Improper dying will ruin the hair. We highly recommend your hairdresser dye the Brazilian virgin hair. Coloring by yourself will take a risk of not coming out the shade you want.
If you can't get to a salon, please always use good quality products and test a small sample first.
Customer Reviews ( 12 )
By
Heather D.
Saturday, 29 October 2022
So far I love these hair extensions! These are the second brand that I have tried so far. I have very fine short hair (shown in the last picture). I love the slight brown root option. It hides the short unhighlighted hairs in the back very well. This time around I opted for the single sided tape when getting them put in, it lays a lot more naturally for me and it doesn't get as dry as previously before. Keep in mind blonde extensions are very processed and they needed a little extra TLC. I wash my hair about once a week and I use shampoo on my roots, and a deep conditioner on my ends. After the shower on damp hair I use a leave in conditioner, a heat protectant, shine spray, either air dry or blow dryer and either a straightener or curling iron. They hold a curl very well. I usually take a dime sized amount of conditioner before bed on my ends or a little hair oil to help them from drying out as well. Hope this helps! Happy hair days!!
By
Les H.
Saturday, 29 October 2022
Perfect 🥰 Easy to care for and to put in! Always buy from you!
By
Rae Barnhardt
Friday, 15 April 2022
Tape Ins are mostly for women with thiner hair in my opinion. I've had extenstions / weaves before and because my head is so small, I hated the way the lumps in my head looked. Tape in extensions are so perfect for me and I will use them exclusively now.My daughter installed them in less than 30 minutes! That's a win, win for me!!!
By
perfect
Saturday, 19 March 2022
My hair is blunt cut bobbed. I had mine put on by my hairstylist and cut to blend. I colored half a pack light brown to put on my under layers. I used 2 packs but she added about 8 other pieces she already had so really needed 3. They look so beautiful and feel amazing. No one believes they are extensions. I'm hooked for life and feel 10 years younger. Also should add I toned them with purple shampoo and the color was perfect.
By
Beautiful Auburn Brown
Thursday, 17 March 2022
These extensions were so natural, I had trouble distinguishing them from my hair when I was removing them. They're soft and they style so easily. The brown color I bought had some reddish and blondish hues, but they just looked like highlights, especially when they were all curled together. It was so easy to apply and easy to remove with hand sanitizer. For me, one pack was more than enough to cover my head, especially with my thin hair. The end result was thick, beautiful curls. I'm so glad I bought these rather than the ones at the salon. My hairdresser was so impressed with them, she said she would recommend them to everyone, and I saved $400! They're probably also easy to reuse if you buy the tape and reapply after washing the extensions. I haven't tried that yet.
By
Incredible value for money
Thursday, 17 March 2022
These are the best extensions you will get for anywhere near this price! They feel real, they take heat well, and they look amazing! These photos are after several weeks/washes and they are still super secure and look perfect.
By
redstarr
Wednesday, 16 March 2022
I have the traditional Asian black hair so if you're finding the one matches your black hair, this is what you would like. I don't really it's thickness since to me, it's kinda thin. Whenever the wind blows, the bang will look like a barcode, seriously. Note: please trim it down after you get it. I trimmed ~1 - 1.5in so it looks so natural (the original length would touch my nose). Washing it with shampoo and conditioner also help the bang look healthier but ofc always double check the texture cuz you definitely don't want the bang to look outstanding. Be safe - Be pretty.
By
Truda
Tuesday, 15 March 2022
omg let me just say I'm extremely satisfied with this purchase the quality is amazing and the tape on these extensions really hold.
By
Very nice and silky!
Thursday, 03 March 2022
By
HOLY GRAIL OF TAPE INS
Tuesday, 01 March 2022
I usually do not write reviews but I am super impressed with this product. I have spent a fortune on tape in extensions in the past, from Sally's brand to the more high end brands. I was a little skeptical of these because of the price to be honest but the quality is BETTER than any other brand I have used....and not to mention these are 1/3 the price. The adhesive is no joke and the hair is amazing quality. I ordered three packs because I have a shoulder length blunt haircut and very very coarse hair.
By
Cassiopeia
Tuesday, 01 March 2022
By
Blends Beautifully
Thursday, 17 February 2022
Super soft hair. Looks SO real! There is a slight gold highlight to the dark briwn i got that gives it a really nice dimention. Blends well!